Published: May 24, 2018
WAYNE, PA | Tekni-Films, a Tekni-Plex business, reports the launch of a new super barrier-coated (SBC) thermoformable film for pharmaceutical blister packs. SBC 240 is being positioned as a performance and improved-cost alternative for 4- and 6-mil PCTFE and cold formed foil in thermoformable blister applications. The triplex structure is said to be ideal for applications such as pharmaceuticals, nutraceuticals, probiotics, and other related products.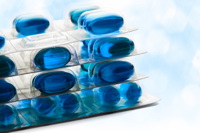 In addition to its clear properties, company says SBC 240 doesn't require stiffening ribs, which can be used to improve the ability of PCTFE to lie flat, nor the oversized blister wells created by cold forming. This means that pharmaceutical companies can use a smaller blister card to contain the same number of tablets or capsules or increase the count on a same-sized card. The end result reportedly is material cost savings all the way through the packaging process, including cartons and cases, as well as improved production efficiencies.
Additional reported benefits include ultra-high moisture and oxygen barrier properties to protect products susceptible to degradation, and a wider processing window than PCTFE—as much as 20 deg F—which helps meet specific production speed preferences.
SBC 240 is created by applying a "next generation" high-barrier variant of polyvinylidene chloride (PVdC) coating to a film structure made from layers of polyethylene. Multiple layers can be applied to create different coating thickness weights. As coating weight increases, so do the barrier attributes.
This email address is being protected from spambots. You need JavaScript enabled to view it.