Published: April 12, 2018
ST. PAUL, MN | Cortec Advanced Films (CAF) has been working side by side with local city government and businesses throughout the year to make expansion of current facilities at its Cambridge, MA, VpCI extrusion plant a reality. The company recently held a ribbon-cutting ceremony to celebrate the completion of the project. The company says it was honored to have the Cambridge mayor present at the ceremony, along with members of the press and representatives of the local bank and contractor who helped make the project possible.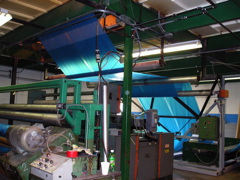 After the ribbon cutting, visitors took tours of the production facilities where VpCI polyethylene film and bags are made for protecting new metal components and equipment of all sizes from corrosion. Among other applications, VpCI film or bags can be wrapped around a new engine or aerospace component to keep it from corroding during shipment from the supplier to the end manufacturer. Tour participants learned how the film is extruded and how raw and finished materials undergo stringent quality control to ensure what company says is a defect rate nearing zero.
Cortec CEO Boris Miksic expressed appreciation for the town of Cambridge and referenced the positive sister city relationship the company has promoted between Cambridge and Beli Manastir, Croatia, where Cortec's European film extrusion plant, EcoCortec, is located. "For me it's been a rewarding experience to be here in this town and . . . to be [a] good corporate citizen," said Miksic.
CAF production manager Tim Bliss explained that Cortec is helping reduce carbon footprints for itself and its customers through an expanding recycling program that will be housed in a new warehouse. The company reduces waste by recycling VpCI film scrap and used VpCI film from its customers and adding it back into new film at a rate that ensures the corrosion inhibiting quality of the product. The new plastic recycling complex will be equipped with Erema reprocessor(s) to offer customers this unique recycling service for used film they no longer need.
This email address is being protected from spambots. You need JavaScript enabled to view it.