Published: December 07, 2017
VIENNA, AUSTRIA | Constantia Flexibles Group will invest a double-digit million euro amount in the expansion of production capacity at its manufacturing site for pharmaceutical packaging, Constantia Patz, in Austria. The company will install one double-sided lacquering machine for foils and laminates, as well as one slitting machine operating in a new class 8 cleanroom. The extra capacity is expected to come onstream early 2019.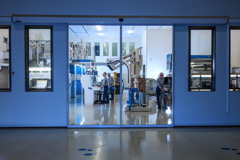 "Our investments will meet growing demand for different blister foil specifications manufactured on focused production lines with the highest hygiene, quality, and safety standards," says Pierre-Henri Bruchon, executive VP for the Pharma division. Constantia Patz is located in Loipersbach, Lower Austria, and employs approximately 350 people at its plant. It produces blister foils and coldform for leading pharmaceutical companies worldwide.
Constantia Patz already operates four certified cleanrooms for lacquering, laminating, slitting, and printing of aluminum-based specifications.
This email address is being protected from spambots. You need JavaScript enabled to view it.