Published: October 03, 2017
VIENNA, AUSTRIA | Mondi Consumer Packaging showed its latest industrial barrier film solutions at the recent PACK EXPO Las Vegas. Striving to protect product aroma and scent against external contamination, the company highlighted a range of pre-formed tubes and bags said to provide greater product protection and improved material stability.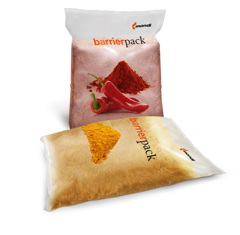 Comprising multilayer films, including a Nylon (PA) or EVOH layer in the center, the product creates what company says is an almost impenetrable barrier for moisture, scent, or gas. Additionally, this stronger structure reportedly makes the material far more durable and tighter than conventional sealed films. As a result, food, cosmetic, agricultural, and chemistry products can enjoy a higher level of product protection than previously possible thanks to an extended shelf life.
The films are available in two different versions. The first one is a pre-formed tube with side gussets, which is suited for automated form/fill/seal production in a wide variety of formats from 1–50 lbs. The film tubes can be printed on in as many as six colors. The solution also provides added value: a special anti-slip embossing simplifies palletization of the product.
The second version of the ultra-strong and protective films can be used for pre-formed bags that require manual filling. Being resistant to flex-cracks, the integrity of these bags is said to be comparable to aluminum. Consequently, the increased product protection and high material quality makes these films appealing for the American pet food and pharmaceutical markets.
This email address is being protected from spambots. You need JavaScript enabled to view it.