Published: July 24, 2017
NORTH KINGSTOWN, RI | Toray Plastics (America) announces Lumirror MK61HB and PA1HB barrier-coated polyester films, called robust new alternatives to foil, PVdC-coated PET and OPP, and AlOx-coated PET. MK61HB metallized-barrier PET is said to offer outstanding oxygen and moisture barrier protection; PA1HB clear-barrier PET is said to deliver outstanding oxygen barrier; both are said to offer superior aroma protection.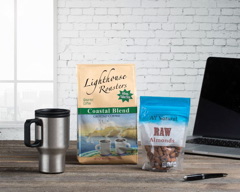 The foundation of these new films is company's proprietary PET, reportedly known for its excellent thermal stability and modified print surface. The biaxial orientation and barrier coating of the new films are conducted in-line in one, streamlined production step. No chlorine is used in company's proprietary coating formula; a chlorine-free coating is an important feature for the CPG seeking an alternative to PVdC. The metallizing of MK61HB is also done in-house. If hermetic seals are required, company can integrate a sealant layer through extrusion coating. The barrier coating may be metallized and extrusion coated, depending on the customer's barrier, sealant, and esthetic requirements.
"The market and chemistries for film barrier technology are changing," says Kerri Boyens, product manager, New Product Development, Toray Plastics (America). "The increasing popularity of 'grab and go' healthful and artisanal foods, evolving distribution channels that create the need for longer shelf life, and the growth of online shopping for everyday consumables are major market shifts facing CPGs. Improved oxygen-, moisture-, and aroma-barrier films, such as MK61HB and PA1HB, that are manufactured with a minimal number of production steps, are smart, versatile solutions."
The films are designed for use as an outer layer in a two-ply lamination or as the middle layer in a three-ply lamination. Their adhesion layer is suitable for laminating, adhesive coating, or printing and they are reported ideal for regular and stand-up pouches, as well as lidding. Applications include gas-flushed items, such as coffee, traditional, and healthful snacks, cookies and other baked goods, confectionery items, dry and powdered foods, and pet food. They are also called an excellent choice for health, beauty, personal care, household goods, and detergent packaging.
This email address is being protected from spambots. You need JavaScript enabled to view it.