Published: July 18, 2017
PAWCATUCK, CT | On Monday, July 17, Davis-Standard president and CEO Jim Murphy welcomed Connecticut Governor Dannel P. Malloy, Department of Economic Community Development (DECD) Commissioner Catherine Smith, Connecticut State Representative Diana Urban, Connecticut State Senator Heather Somers, Stonington Second Selectman Mike Spellman, and more than 400 employees to celebrate the completion of a 15,000 sq-ft addition to the company's Pawcatuck facility. A ribbon-cutting ceremony followed by facility tours commemorated the occasion. The new space houses manufacturing and precision machining of advanced multilayer blown film dies, enabling company to move all blown film manufacturing from Gloucester, MA, to Pawcatuck.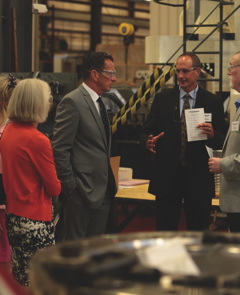 "The facility addition is the culmination of our vision to bring world-class blown film die production to Pawcatuck," says Murphy. "All Davis-Standard blown film die technology is now integrated under one roof, making us one of the largest manufacturers of seven to 11-layer blown film dies in the world. These dies are used for making highly technical multilayer films used in packaging and pharmaceutical applications, which are high-demand markets for us. We are grateful to Governor Malloy, Commissioner Smith, Representative Urban, Senator Formica, Senator Somers, and Stonington First Selectman Rob Simmons for their support in making this possible."
Davis-Standard has operated in southeast Connecticut since 1848 and is one of the oldest employers in the Southeast Connecticut/Southwest Rhode Island region. The expansion will bring more than 30 new manufacturing jobs to the site over two years.
"Davis-Standard has long been one of southeast Connecticut's largest employers and we are proud to support the growth of their global headquarters here in our state and the creation of new manufacturing jobs that come with it," Governor Malloy said. "Manufacturing is central to our success and a driving force of Connecticut's economy, and our state is committed to supporting this important sector and the growth of its workforce. We are excited to have Davis-Standard as a proud Connecticut-based international business."
The expansion of the Pawcatuck site reinforces the company's commitment to the local region. In addition to the Pawcatuck facility, Davis-Standard has manufacturing facilities and subsidiaries in the US, Europe, and Asia.
"This beautiful new facility is evidence of Davis-Standard's global leadership in extrusion technology, as well as their commitment to economic stability in our region," said Diana Urban, Connecticut State Representative for North Stonington and Stonington. "We are proud of all Davis-Standard has achieved over the years and their long-standing relationship with our community. Many Davis-Standard employees come from multi-generational families who are at the core of Davis-Standard's innovation. This is a unique situation, and we're honored to be part of it."
This email address is being protected from spambots. You need JavaScript enabled to view it.