Published: June 05, 2017
WIGTON, CUMBRIA, UK | Innovia Films announces Propafilm REF, its latest high-speed biaxially oriented polypropylene (BOPP) film. This new coextruded material is said to offer a wide sealing range, when compared to standard coextruded films. At typical laboratory conditions, scientists have been able to confirm over 30 deg C lower heat seal threshold (the minimum temperature required to achieve acceptable seal strength of 200g/25mm) compared to basic films.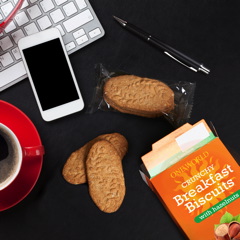 In addition to the wide seal range, this film also reportedly provides an enhanced hot tack performance over standard films. This means that the seals, when pulled still hot, resist opening on a larger range of temperatures. Combined, these two properties enable film to be ideally suited to horizontal-form-fill wrapping applications.
The company says it has been able to validate their laboratory findings with actual packaging machinery trials. SPS Italiana Pack Systems (PFM Group), was one of the partners chosen to confirm the film's performance. "We were asked by Innovia Films to confirm the performance of their new film on our machinery," says Roberto Spatolisano, project manager from SPS. "We ran Propafilm REF on our Modulo machine, and we can confirm that speeds of 80 mpm were achieved, a substantial 30-mpm improvement. At these speeds, the film was still passing our stringent micro-hole acceptance level."
Amaia Cowan, market development, manager, Innovia Films, says, "While speed is important to our customers, efficiencies are just as critical. Minimizing rejects and maximizing outputs remain an important objective for many of our clients. Propafilm REF can contribute to these targets. With its higher COF in the inner surface of the film, product movement within the pack can be reduced during the feeding stages, protecting seal damage and allowing good pack integrity to be maintained. Strong seals are achieved every time."
This film, company reports, besides offering excellent machinability, also provides excellent clarity for visual impact and good moisture barrier for product protection. It is suited to a variety of applications and markets such as biscuits and bakery, confectionery, dried foods, tea, and cosmetics.
This email address is being protected from spambots. You need JavaScript enabled to view it.