Published: May 24, 2017
GREEN BAY, WI | Paper Converting Machine Company (PCMC), part of the Barry-Wehmiller family, reports the sale of a new XF800 wrapper to Sun Paper in Duncan, SC. The XF800 is replacing a reciprocating wrapper that was said to be a bottleneck on one of the existing winder lines at Sun, whose primary focus is on private label bath tissue, kitchen towels, napkins, and facial tissue.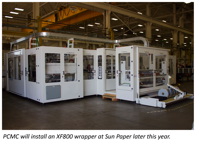 "PCMC's continuous flow technology gives us increased throughput on a broad range of products from a single machine," says Joe Salgado, (linkedin.com/in/joe-salgado-63465392) executive VP at Sun Paper. "We're also excited about the improved change repeatability and the simpler operating system that the XF800 provides."
As part of the family of packaging products from PCMC, the XF800 wrapper features a continuous motion design, flexible layout options, and motorized adjustments for fast initial pack setup. With an optional fifth infeed lane and third level, it can adapt to a variety of packaging projects to meet the changing needs facing the tissue industry today.
"This purchase is the result of creative thinking to solve a customer's problem and steward the trust placed in us," says Bob Schuh, Tissue Packaging sales director for PCMC. "Project team members from Sun Paper and PCMC took a holistic view of Sun Paper's current production environment and future goals. In doing so, we actually co-developed a solution outside of the original scope of the project that positions Sun Paper for even greater success through added efficiency and easier operations." The wrapper is scheduled for installation in October 2017.
This email address is being protected from spambots. You need JavaScript enabled to view it.
This email address is being protected from spambots. You need JavaScript enabled to view it.