Published: February 08, 2017
ST. PAUL, MN | Cortec Corp. has developed a static dissipative corrosion inhibiting paper that serves as a complete packaging paper for valuable electrical and electronic items. EcoSonic ESD Paper powered by Nano VpCI eliminates static electricity buildup through the use of an environmentally friendly coating made from soybean oil and coated on the surface of the paper. The paper performs better on the static half-life test (a test with an environment consisting of little or no humidity) than papers with conventional anti-stat coatings consisting of alkyl ammonium chlorides, typical ethoxylated amines, typical imidazolines, phosphated esters, and nonionic based antistat coatings.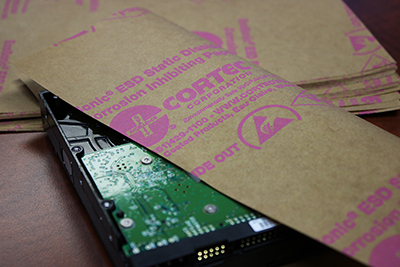 The antistat protection from EcoSonic ESD Paper is thermally stable at high temperatures [in excess of 392°F (200°C)] and pH stable between 2 and 11 at temperatures in excess of 100°F (38°C) for several days. EcoSonic ESD Paper conforms to performance specifications for MIL-PRF-81705D (Static Decay Rate and Surface Resistivity).
Continuing the Cortec tradition of innovative corrosion protection, EcoSonic ESD Paper will also provide contact, vapor, and barrier phase corrosion inhibition for ferrous and non-ferrous metals. It conforms to the requirements of performance specification MIL-PRF-3420H (vapor inhibiting ability) and is effective against aggressive environments including humidity, SO2, H2S, and galvanic corrosion from dissimilar metals. At the same time, it is free of nitrites, phosphates, silicates, and other hazardous compounds and is non-toxic, biodegradable, and fully recyclable/repulpable. Made from the highest quality neutral natural kraft paper without using chlorine or other bleaching, this paper eliminates package contamination found with other competing corrosion inhibiting papers.
EcoSonic ESD Paper can be used to protect any material capable of being damaged by electrostatic discharge:
Printed circuit boards (PCBs)
PCB components
Integrated circuits
Telecommunications equipment
Electrical panels
Electrical enclosures
Batteries
Numerous other electrical, multi-metal materials
There are no chemical concentrations to calculate, no chemical tanks or application systems to maintain. Just wrap your products in the paper, and fold the edges together. Use adhesive tape as needed to hold paper folds in place. The paper does not influence physical properties of even the most sensitive electrical components, including conductivity and resistance. Parts protected in the EcoSonic ESD Paper can be painted, welded, and soldered. The paper can also be used for electrostatic dissipation and corrosion protection during electronics assembly.