Published: October 03, 2016
LAGRANGE, GA | Jindal Films announces SealTOUGH, a coextruded packaging family of films targeted to replace sealant layers in a lamination or single layers in mono-web applications. Film is said to provide unmatched puncture resistance, enhanced clarity, improved modulus, and seal strength that can exceed 5,000g/2.54cm. Offers the downgauge potential of 30%, 40%, or more compared to traditional sealant films, company says.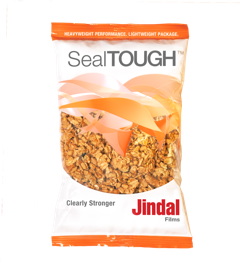 Bill Handy, marketing director at Jindal Films, says, "We are excited about this new platform that is being developed to provide packaging solutions through clear and white coextruded films, while adding metallization for barrier application and structure simplification, coatings for products that require low oxygen barrier, and AlOx coating for clear high barrier requirements."
Company reports the product bridges the attributes of BOPP and blown PE film to achieve enhanced performance benchmarks for clarity and strength, adding that packaging designs utilizing SealTOUGH contribute to the objectives for source reduction and recycling of the Sustainable Packaging Coalition.
Films are said to surpass the current applications of blown PE, including confectionary, snacks, dry fruit and nuts, pasta, rice, bakery items, produce, and dry products. Utilizing SealTOUGH as f/f/s bags, freezer bags, lamination, and hygienic bags makes use of property enhancements that allow for the use of thinner film, weight reduction and cost savings.
According to company, when replacing a 30µm (120-ga) blown PE film with 18µm (70-ga) SealTOUGH clear film, user achieves 41% downgauging, 2-fold improvement in clarity, equivalent ultimate seal strength, 2-fold improvement in puncture resistance, 2-fold improvement in impact resistance, 3-fold improvement in tensile strength, 2-fold improvement in modulus, and 50% reduction in elongation.
This email address is being protected from spambots. You need JavaScript enabled to view it.