Published: September 23, 2016
LEXINGTON, OH | Next Generation Films, a supplier of specialty films to a variety of markets, has ordered several VAREX blown film lines from Windmoeller & Hoelscher (W&H) for the production of multilayer specialty films as part of a $75M expansion.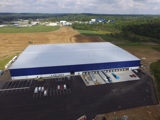 Next Generation CEO Dave Frecka says the company will fill its new plant with leading edge technology to mix with its "own brand of magic" and set the standard for film in the industry. "We've chosen W&H for future growth based on the success we've experienced together over the past years."
The VAREX modular blown film line from W&H covers a broad range of applications from mono to 3, 5, 7, 9, and 11 layers.
Along with adding 80 acres to its existing campus, building a new plant, and acquiring state-of-the-art technology, Next Generation expects to create over 60 new jobs.
The expansion, which is in the ground-breaking phase, is projected to be completed by June 2017.
This email address is being protected from spambots. You need JavaScript enabled to view it.