Published: September 01, 2016
BEAN STATION, TN | FILMtech is expanding again with the addition of a newly completed office building on its 18-acre campus near Knoxville, TN. The two-story building, attached to the current manufacturing facility, features a training center upstairs with offices below.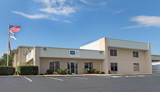 FILMtech, a supplier to the metallized and clear barrier film industry, maintains warehouse, shipping, and production facilities in excess of 100,000 sq ft on its site. "The new space will assist in our associate training programs and maximize face-to-face interactions with each other," says FILMtech president Mark McGarel. "This new space will improve communication between departments and result in more efficient responses to our customers."
The company has grown to more than 60 employees since its formation in 2002 and reports it continues to be poised for growth and global expansion. It holds an exclusive license agreement for clear barrier films with Ultimet Films Ltd. for CeramAlox.
This email address is being protected from spambots. You need JavaScript enabled to view it.