Published: April 26, 2016
HOUSTON TX | ExxonMobil is expanding its slate of polyethylene products with the introduction of Exceed XP performance polymers. The company announced the new polymers April 25 during a global webcast held at Chinaplas, saying product is designed to provide extreme performance in a variety of liquid and food packaging film applications and to run at faster output rates on blown film lines.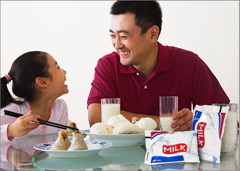 "Exceed XP can improve packaging solutions for the essential protection and preservation of liquids and food products. These new polymers allow excellent processing with superior performance to create extremely damage resistant packaging that benefits converters and end-users," says Thomas Deman, global polyethylene marketing manager, ExxonMobil Chemical.
Company says the new polymers allow converters to fabricate improved liquid packaging films for demanding applications including bag-in-box bladders, pillow and stand-up pouches, and flexi-tank container liners. Reportedly, the toughness and flex-crack resistance of films made with Exceed XP help absorb the shock and mitigate the risk of pinholes caused by the repeated movement of products during production, handling, and transportation. This, combined with the film's sealing performance, can minimize leakage and product waste.
Polymers also are said to allow converters to produce food packaging films that withstand demanding environments like low temperatures or high-volume content packaging. The toughness and sealing performance of the films help producers and brand owners protect and preserve their food products, while minimizing waste, from production through consumption.
Company adds that polymers offer a range of options for bubble stability and ease of extrusion to deliver a combination of extreme performance with processability and improved output. Converters can cost-effectively tailor film solutions via linear PE blends or downgauging.
"The flexible food packaging market continues to drive toward more lightweight, yet stronger and more effective solutions," says Deman. "Exceed XP can help meet these market needs by providing an outstanding combination of toughness, damage resistance and sealability. Downgauging levels to 30 percent can be achieved with better packaging performance, while helping to extend shelf life and product safety to protect and preserve food longer."