Published: June 03, 2015
WIGTON, CUMBRIA, UK | The German chocolate manufacturer, Halloren Schokoladenfabrik AG, has chosen Propafilm RCU from Innovia Films as part of the packaging for its new collection of Oh là là chocolates. Founded in 1804, Halloren is the oldest chocolate factory in Germany and offers an extensive range of finest chocolates and sweets.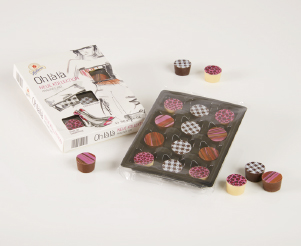 Propafilm RCU is an appropriate packaging complement for Halloren's new Oh là là chocolates. The BOPP film provides protection from mineral oil migration and in addition offers barrier to water vapor, flavors, and aromas; very important considerations in this exciting confectionery packaging.
The Oh là là chocolate assortment was launched on the Halloren stand at the International Sweets Exhibition (ISM) in Cologne earlier this year. Three flavors are included in the box: Marc de Champagne, Chocolat Noir, Crème de Nougat.
Transparent Propafilm RCU is Innovia Films' latest BOPP development and provides up to 1.5 years proven protection from mineral oil migration*. The film application is a flow wrap of the tray containing the chocolates inside the box.
*Innovia Films research results were published in a peer-reviewed white paper: 'Mineral Oil Barrier Testing of Cellulose-based and Polypropylene-based films', G. O'Connor, N. Hudson and S. Buckley, Packaging Technology & Science, DOI: 10.1002 /pts. 2082, Copyright® (2014), John Wiley & Sons Ltd. Published online in Wiley Online Library.