Published: December 30, 2014, By Claudia Hine
Barrier films captured our readers' attention, taking half of the available slots in our annual review of new technology.
It's all about the barrier this year as five of the top ten new products of 2014 are high performance films. Because packages are expected to provide a host of benefits that go far beyond just holding the contents, readers of PFFC's E-Clips newsletter showed the most interest in materials that provide packages with ultra-high barrier properties, kill bacteria, and can be used as a replacement for foil.
To determine the top ten new products, PFFC editors tally the "clicks" generated by new products featured in E-Clips as readers seek further information on our website. With a nod to today's smart phone technology, this year's batch of new products includes two apps created just for converters.
Without further ado, here are the top ten products of 2014.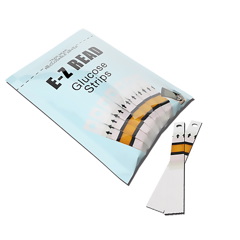 Ampac's Flexi FoilFree HB
Ampac, Cincinnati, OH, introduced Flexi FoilFree HB, an ultra-high-barrier film technology that can achieve moisture, oxygen, and vapor barrier properties approaching aluminum foil laminates, without the use of foil, when incorporated in a laminate. Laminates are said to provide excellent product performance characteristics compared to traditional thin-gauge foil materials. Reportedly, flex-crack and puncture resistance properties are significantly improved in composites when used in place of foil, while also providing easier "tear-open" properties over foil-based substrates. Packaging has improved yield and is lighter weight versus comparable foil substrates, yielding lower greenhouse gases and requiring less energy consumption in manufacturing and distribution.
Appleton Mfg. Division's Customized Butt Roll Slabber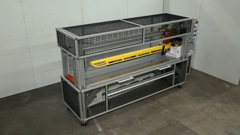 Appleton Mfg. Div., Neenah, WI, has customized its butt roll slabber for customers that want a manual loading process but also want a powered solution for removing the material in order to improve safety and productivity. Starting with the Safe-Slab concept, the company designed a custom solution that works by slicing the material longitudinally with a circular knife blade. The entire cutting area and apparatus is contained within an enclosure made of extruded aluminum structural members with PVC-coated steel wire mesh panels. It features a vertical sliding access door for loading and unloading rolls, and the door auto-locks when the machine is in use. The company says worker safety is improved and customers are able to recover the core for re-use and the material for recycling at a much higher rate of productivity.
This email address is being protected from spambots. You need JavaScript enabled to view it.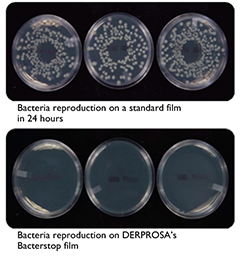 Derprosa's BACTERSTOP BOPP Film
Derprosa Film, Jaen, Spain, offers BACTERSTOP, a BOPP film for food packaging that is said to kill 99.9% of bacteria that come into contact with the film. There are two different films available. DF301 is a transparent film with a high bacteria spectrum said to offer the best anti-bacterial insurance and to be suited for fresh vegetables if the package is macro perforated. DF308 is a transparent film with a high bacteria spectrum and demisting properties, called ideal for fresh vegetables. The result is packaging that allows a clear view of the product while preventing drops forming on the film's surface and, therefore, bacteria proliferating on the package. The film is provided with antibacterial properties that company says attacks the Escherichia Coli (E. Coli) and St. Aureus bacteria.
DUNMORE's Smartphone App for Label Converters
DUNMORE Corp., Bristol, PA, offers a free Smartphone application, available for iPhones and Android devices, with a roll-to-roll calculator that features a comprehensive list of calculations and conversions useful for any professionals working with continuous web substrates. Reportedly, it will help label converters and industry manufacturers quickly calculate roll outside diameter and roll length. It uses film thickness, roll diameter, and core size to determine the total length of the substrate. Conversely, it calculates the overall roll diameter if you use the film thickness, length, and core size as inputs. The app allows users to perform the following calculations quickly: roll outside diameter; roll length from diameter; the resistance of a metallized substrate; yield from length; total material needed from label parameters; yield using specific gravity; and conversions for area, weight, distance, and thickness.
Heat Technologies' iPhone App
Heat Technologies Inc., Atlanta, GA, introduced HTI Anilox, an iPhone App to assist converters and printers with the analysis of their daily operation. This application has been created for paper and film converters that use flexographic and rotogravure presses, coaters, laminators, etc. The app provides the end-users of this equipment with better understanding of how much ink or coating is laid down on the material. The app also can convert data from BCM into g/m2, determine wet and dry thickness of coatings, and more.
Toray's Torayfan PC5 Metallized BOPP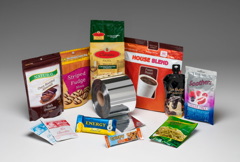 Toray Plastics (America), North Kingstown, RI, introduced Torayfan PC5 metallized BOPP film, a versatile ultra-high oxygen- and moisture-barrier film that can be used in tri-laminations as a foil replacement and as an overwrap laminator or wrapper. The film is said to be a durable, cost-effective replacement for foil in a typical paper/PE/foil/PE packaging structure. In addition, company adds, it is well suited for use as the inner barrier web of a tri-lamination in gas-flushed stand-up or flat pouches. It also can be used as a cold-seal layer and as part of a lamination for high quality confectionery wrappers and bakery overwraps. Ultra-high-barrier layer is resistant to crazing on one side. The other side is corona treated for excellent bond strength in cold-seal adhesive applications and in extrusion and adhesive three-ply laminations. It is available in 60-ga (15-um) and is designed to run on HFFS and VFFS packaging equipment.
Toray's Torayfan CBS2 BOPP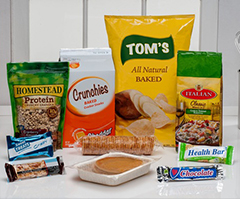 Toray Plastics (America) lands in our top ten again with the introduction of Torayfan CBS2 film, an environmentally conscious, clear, high-oxygen- and moisture-barrier BOPP film designed for use as the inside sealant web for the packaging of bakery items, crisp salty snacks, cookies, crackers, granola, fruit and nut mixes, and confections, as well as dry pet food and treats and non-food items. Consumer packaged goods companies and converters can create value-added transparent PVdC-free laminations that provide an excellent oxygen and moisture barrier. Versatile, heat-sealable CBS2 BOPP film is also said to offer end-users an alternative to coated OPP and PET films and is the more economical choice when compared with aluminum oxide (AlOx)-coated films. It is available in 70 and 80 gauge, presenting a downgauged alternative to thicker OPP films. CBS2 film can be used as an unsupported web for flexographic and rotogravure surface printing.
Jindal's Label and Packaging Films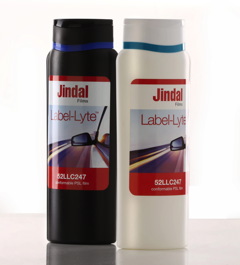 Jindal Films, Strassen, Luxembourg, introduced three films for packaging and labeling use that reportedly help customers improve performance and meet sustainability challenges. They include a white oriented PP, a metallized OPP, and an OPP-based sealant film for standup pouches. Label-Lyte 52LLC247 film is a new white lightweight oriented PP film said to offer excellent converting characteristics, conformability, and flexibility for p-s label applications. Reportedly, the conformability and squeezability of the film allow the label to remain intact and appear new even after multiple squeezes of the container. Bicor 50 SuP 490 OPP-based sealant film for stand-up pouch applications is said to offer excellent stiffness for stand-up display, high transparency for optimum visibility, and outstanding moisture barrier, while providing opportunities for downgauging compared to blown LLDPE or CPP alternatives. Metallyte MM688 OPP film is a metallized, surface-printable monoweb solution with a broad seal range and operating window for high-speed horizontal f/f/s packaging. Company says the film, with a very low temperature seal coating, can replace lamination while maintaining moisture, flavor, and aroma barriers to keep products tasting and smelling fresh.
AmeriLam Supply Group's Luxe FineLinen Laminate Film
AmeriLam Supply Group, Knoxville, TN, announces Luxe FineLinen laminate film, a 24-micron PP material. Manufactured with a unique emboss pattern imbedded in the film, product is said to simulate the texture of high quality European linen with a luxurious matte finish. Suited for use on folding cartons, POS materials, and more. As a thermal laminating film product, film is easily applied utilizing standard one-sided laminating equipment, company says, adding the film has a strong surface structure and is resistant to scratching and scuffing, providing excellent protection and additional strength in every application. The surface can be foil-stamped, vanished, glued, or embossed.
HP's Indigo WS6800 Digital Press

HP, Palo Alto, CA, expanded its digital press portfolio with the roll-fed Indigo WS6800, which offers label and packaging converters faster turnaround times through automated color management, a wider frame, and new ink capabilities for expanded applications. Company says the press delivers a high crossover point in narrow web production versus analog for the vast majority of pressure-sensitive label jobs and it will help support the rapid increase in volume of digitally produced labels. Reportedly, the WS6800 helps customers reach new levels of productivity and reduce time spent preparing color profiles and PANTONE color matching by up to 75% with a new in-line spectrophotometer. Using closed-loop control, the spectrophotometer eliminates the need for manual color calibrations and adjustments. An expanded frame width, increased from 317 mm to 320 mm, allows for higher press output and reduced costs. In addition, label converters can produce up to 131 linear fpm in color using Enhanced Productivity Mode (EPM).