Published: December 08, 2014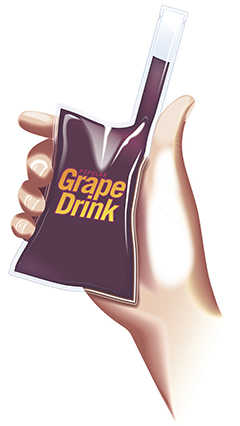 NEW YORK, NY | Barton Group Inc. of New York has been nominated for an Edison Award for its innovative "Squeezy Straw" packaging.
For more than a quarter of a century, the prestigious Edison Awards have recognized innovation in product and services design, sustainability, and marketing, establishing itself as one of the highest accolades a company can receive in the name of innovation.
"We are honored to have received this nomination," said Barton Group President Lew Barton. "Our Squeezy Straw packaging is a new single-serve dispensing pouch with its own built-in, integral sipping straw.
"By combining pouch and straw into one product, we can reduce packaging and storage costs, accommodate all kinds of liquids at all temperatures, and reduce environmental impact," Barton explained. "I am making this patented technology available for licensing, and it is under consideration by some of the world's leading consumer product companies."
The awards are named after Thomas Edison, whose extraordinary new product development methods garnered him 1,093 US patents and made him a household name around the world. Edison pioneered five industries that transformed our world, including the incandescent electric light and the distribution system for electrical power, the phonograph and recorded sound, the telephone transmitter, the electrical storage battery, and the motion-picture camera.
Lewis Barton has consulted on issues of packaging, supply chain management, and operations in the foodservice and packaging industries for more than 20 years. Previously he was the founder and CEO of Sigma Quality Foods (SQF), a producer of single-service condiment packets and other liquid food products for the foodservice industry.