Published: January 23, 2014
WICHITA, KS | BJK Flexible Packaging, a specialty films producer based in Louisville, KY, has expanded its film production capacity with the addition of a new five-layer blown film line from Reifenhauser Inc. The company recently installed and commissioned the new line in an all-new 30,000 sq ft addition that it built specifically for that purpose at its Louisville headquarters.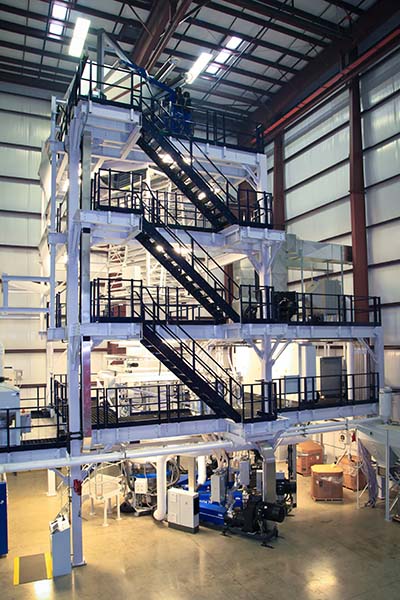 Reifenhauser Inc. provided the complete turnkey blown film system for BJK and handled installation of the new line with employees from its US headquarters in Wichita. The company recently consolidated its US operations in Wichita at its Reiloy Westland Corp. facility. The Wichita facility houses service and support technicians and a huge spare parts inventory. The company offers spare parts online ordering to its customers via its "Web Shop," and provides 24/7 "follow the sun" service where a live support person can always be reached around the globe.
New Film Markets
The new film line, which started running in November, will be used to produce five-layer film structures that will provide a better alternative for sophisticated three-layer films, according to Brian Krein, chairman and CEO of BJK. It features a 110-in. wide line with a 550 mm die, capable of running over 1,500 lbs/hr of material. "It's our feeling that three-layer's future for many film segments will move to five-layer," he said in a recent interview. "Five-layer films allow more flexibility in general to extrude for specific applications.
"We looked closely at the many blown film machinery options on the market and decided to go with Reifenhauser as we felt they had the best available technology."
Business is strong at BJK, a company that has been in business for more than 35 years and is a leader in the production of films for the food industry. The company is a major player in the poultry industry, providing films for packaging and extending the shelf life of fresh chicken. According to Jim Schandle, president and COO, the purchase of the new Reifenhauser-Kiefel line was to satisfy two major needs: to keep up with the current demand from existing customers and to expand into new film markets that the company has not served in the past.
"We knew the new line would be used to better serve our current customer base, for instance, to provide better films for the poultry industry to package fresh products in vertical form and fill bags," he said. "Taking this technology to that industry and providing them with better products is huge for us. But we also plan to continue to diversify into other converting, laminating, and print markets."
A Technology-Based Decision
When researching new blown film lines for their business, BJK did their homework—and decided on Reifenhauser based on what they considered to be industry-leading differentiating technology. "We wanted technology that would differentiate us from our competition—the last thing we want to do is be a 'me-too' type of company," said Brian Krein. "We had been to the last two K fairs in Dusseldorf, and visited several of the leading machinery providers. After visiting Reifenhauser in Troisdorf, we felt they had the technology that would help our company leapfrog its competition."
Two key differentiators that BJK saw from Reifenhauser-Kiefel were its Ultra Cool and Ultra Flat technologies. Ultra Cool is a high output cooling system that directly contributes to higher output of the blown film; and Ultra Flat provides flatter film that runs more smoothly through downstream equipment, such as printing presses and bag machines, again providing higher output and ultimately higher quality rolls of film.
This email address is being protected from spambots. You need JavaScript enabled to view it., president of Reifenhauser Inc., said that the new five-layer system sold to BJK is the first one in North America with the Ultra Flat technology. "We feel strongly that Ultra Flat is a game changing technology in blown film, and after visiting our plant in Troisdorf for materials trials and seeing it for themselves, BJK felt that same way," he said. "They said they wanted a differentiating technology to give them a competitive advantage, and this is it."
Jim Schandle agrees, saying, "The bottom line is that this technology will allow us to produce better quality films at higher speeds and using five layers to produce three-layer films gives us the ability to provide something new, that the marketplace has not seen before."
In addition to the technology, BJK liked the fact that Reifenhauser continues to be a family-owned company, much like themselves, said Brian Krein. "Jim and I have visited most of the blown film machinery suppliers, and one thing that stood out about Reifenhauser, besides their technology, was the fact that the chairman of the board, Ulrich Reifenhauser, and Reifenhauser-Kiefel managing director, Edgar Gandelheidt, are both intimately involved in the business," he said. "Both guys are engineers with a passion for their company, and they are readily accessible and available for us. We value that."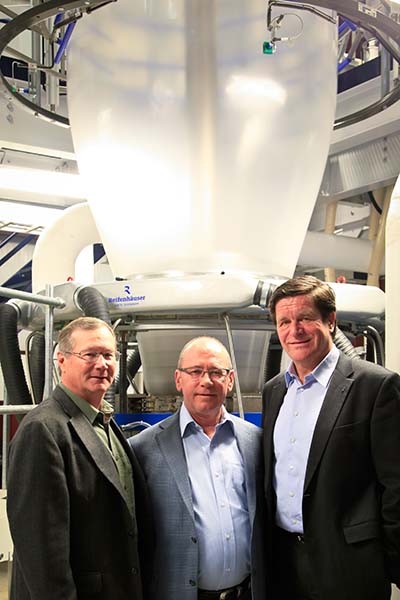 Future Plans
The new 30,000-sq-ft addition at BJK in Louisville that houses the new Reifenhauser five-layer blown film line has enough room to add one more—and that's exactly what BJK intends to do in 2014. Once the second line has been added, they plan on adding another 30,000 sq ft of space for extrusion and warehousing purposes.
This email address is being protected from spambots. You need JavaScript enabled to view it.