Published: July 15, 2013
ELK GROVE VILLAGE, IL | Clear Lam Packaging Inc. developed a new Peel and ReSeal Lidding Film for Ready Pac Inc. retail lettuce trays. The new lidding technology helps Ready Pac reduce package weight by up to 32% compared to preformed rigid lids, improve shipping cube, and allow for more product on the pallet to reduce transportation and warehousing costs. In addition, the Peel and ReSeal system eliminates shrink bands and thermoformed lids so it is easy to open and close. Applications for the new Peel and ReSeal Film include prepared meals, meats, cheeses, snacks, candies, and baked goods.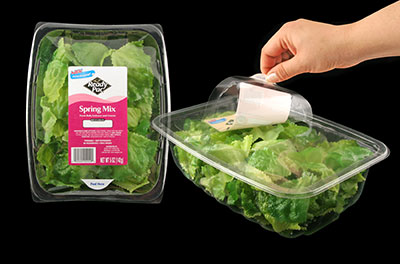 The Peel and ReSeal system is incorporated into the flexible film roll. Two rolls of film can provide the same number of impressions as a full pallet of preformed rigid lids, reducing landfill waste. Developed for multi-use applications, the new tamper-evident Peel and ReSeal Lidding Film is hermetically sealed and opens easily and reseals to the package with a light touch, offering consumers reliable access to the product. The lidding also allows for use of modified atmosphere to extend shelf life.
"Today's food processors and retailers are committed to finding ways to reduce their impact on the environment so incorporating innovative packaging materials to achieve sustainability improvements is becoming a normal course of doing business," said James Sanfilippo, president and CEO, Clear Lam Packaging. "Packaging solutions like our Peel and ReSeal Lidding Film help companies reduce their carbon footprint while providing improved processing efficiencies and cost advantages.
"Today's consumer is more sophisticated and price sensitive, so any packaging improvement must provide tangible benefits," he said. "That's why Clear Lam's focus is on developing packaging that addresses real consumer needs while meeting our customers' long-term sustainability initiatives."
The Peel and ReSeal Lidding Film is well suited for all types of dry and wet products including foods and snacks such as baked good, meats, cheeses, prepared foods, salty snacks, candy, and nuts.