Published: February 01, 2007
Products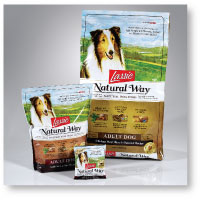 Bow WOW!
In an effort to help supermarkets regain pet food market share from pet specialty stores, Sunshine Mills and Lassie licensor Classic Media came up with a line of natural dog food "endorsed' by Lassie and featuring quality ingredients and upscale graphics. Alcan Packaging adds convenience by putting the product in a stand-up, quad-seal PET pouch with press-to-close zipper resealability. The pouch is said to yield operational benefits including outstanding machinability and superior COF for improved palletization. The pet food comes in four varieties and three sizes: 5-, 20-, and 40-lb bags, plus treats and biscuits.
---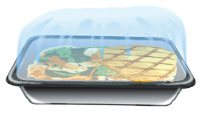 Steamy Solutions
Curwood Inc., Oshkosh, WI, offers four new steam-and-serve packaging technologies for convenience cooking: a self-venting stand-up pouch; forming/nonforming film system; cook-in bag; and skin-pack steam dome (pictured). No knives or scissors are needed to vent or open the packages in any of the systems, says the company, adding there is no cooking splatter, messy handling, or burns from captive steam. Consumers simply microwave and serve. All four systems offer hermetic protection throughout distribution.
---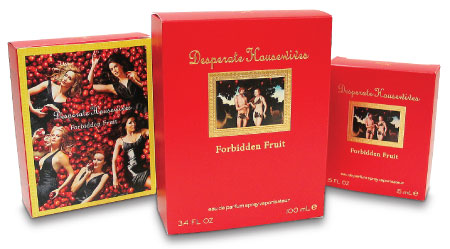 The Aroma of a Hit
The women of Wisteria Lane (aka ABC TV's Desperate Housewives) were the inspiration for a new fragrance from Coty, called Forbidden Fruit. The cartons for the launch were designed and manufactured by Diamond Packaging, Rochester, NY, and feature 0.018 SBS paperboard complemented by foil stamping and combination stamping (foil embossing) around the artwork on the front panel. The structure features a glued inner cell to secure the bottle inside. Graphics were printed offset with four-color process inks and two hits of red ink, in-line with a dull, stampable UV varnish.
---