Published: January 24, 2023
Hudson-Sharp, part of BW Converting Solutions, is a global leader in the design, manufacture, and service of plastic bag-making equipment, pouch-making equipment, and recloseable solutions for the bag-converting industry worldwide. With more than 100 years of experience, Hudson-Sharp sets the standard for high-performance equipment, including wicketers and stand-up pouch machines, as well as industry-leading technology and innovation as demonstrated by our revolutionary INNO-LOK® and POUR & LOK™ pre-applied closure products. Our innovative team of engineers can custom design machinery for all your flexible packaging applications and our dedicated support staff is here to provide world-renowned customer service.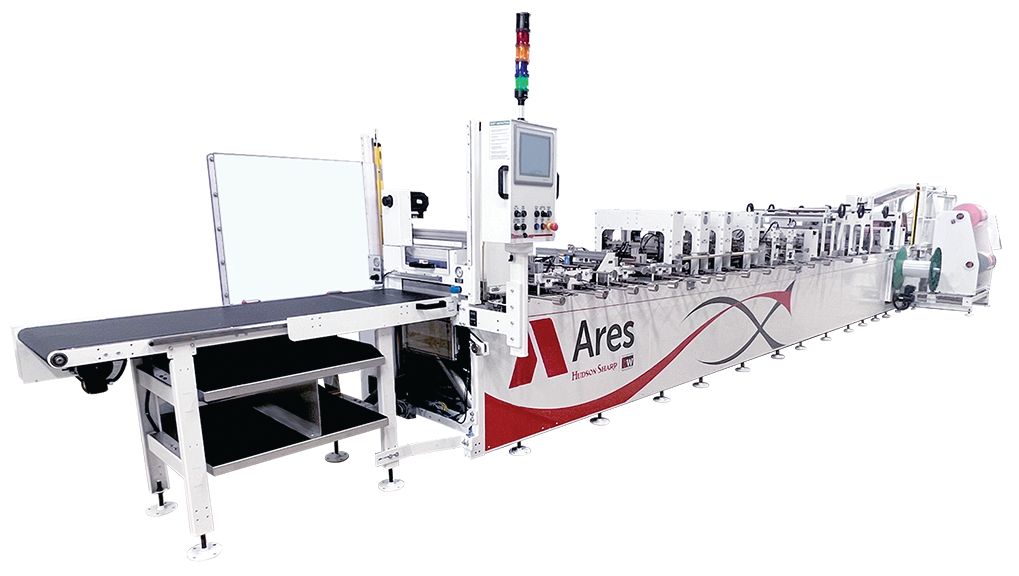 ARES 400-SUP
Hudson-Sharp has been leading the way on polybag machines and polyethylene (PE) pouches for years and continues to do so with our innovative Ares 400-SUP pouch machine. It was created from listening to our clients' changing needs and is the perfect complement to label and narrow web printers. The Ares 400-SUP stand up pouch machine is a compact, efficient, easy-to-operate, quick-changeover machine designed for short to medium production runs. And to help customers meet sustainability goals and mandates, it runs recycle-ready PE, paper, and biofilms, in addition to laminated films, with ease and a low scrap rate.
INNO-LOK®/EZ-STAND/POUR & LOK™
Innovative flexible packaging solutions are a hallmark of Hudson-Sharp's legacy as demonstrated by our INNO-LOK®, EZ-STAND and POUR & LOK™ contributions. Our INNO-LOK machine provides the flexibility to run either recloseable or regular bags on any packaging lines without additional capital expenditures. Our EZ-STAND innovation is a pre-applied bottom gusset on a roll that can easily produce stand-up pouches on a VFFS machine. The EZ-STAND pouch is made by utilizing an INNO-LOK machine along with a universal applicator which allows VFFS pillow packs to stand up with the same efficiency and economy. And our highly innovative POUR & LOK feature produces resealable side- gusseted bags and pouches ideal for pet food, lawn and garden, and snack applications. Utilizing roll stock with pre-applied closures creates value by providing higher production rates, no reduction in processing speeds, less scrap, and less down time.

INDUSTRY 4.0
Through options like video troubleshooting and data monitoring, our Accelerate™ services minimize down time for our customers around the world. We can offer maintenance alerts, quicker response times, and immediate recommendations that can prevent costly equipment failures.
SERVICE & SUPPORT
We know you rely on our machines to keep your business moving forward and we stand behind our equipment. We offer a variety of services including installation, start-up, training, and maintenance performed by a global team of highly trained service technicians. We also have multiple spare parts stocking locations around the world to keep your business up and running.

Scott Romenesko
Director of Sales- Americas
This email address is being protected from spambots. You need JavaScript enabled to view it.
Hudson-Sharp
2300 South Ashland Avenue | Green Bay, WI 54307-9005
+1 (920) 491-6138 | m +1 (920) 366-9258