Published: November 06, 2019
Double E's New Core Plug Weighs at least 1/3 Less Than What You Are Using Today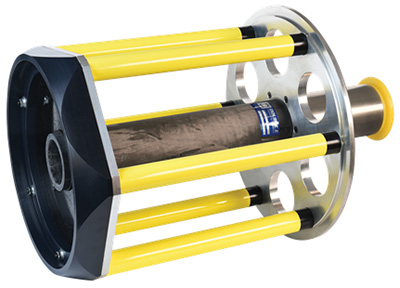 As part of its efforts to service the Converting Industry by enhancing productivity and safety, Double E recently introduced its new Carbon Fiber-based Ultra-Light Core Plug. This Ultra-Light Core Plug builds upon Double E's industry leadership in applying carbon fiber technology to the converting products market. Capitalizing on carbon fiber's incredible weight to strength ratio, Double E engineered the Ultra-Light Core Plug's critical components using advanced composites that dramatically lower the weight of the core plug while assuring its performance integrity. In doing so, Double E has introduced the lowest weight core plug ever available to the Tissue Industry.
"Multiple customers approached Double E seeking to further reduce the weight of our already lightweight core plugs. We started by applying our carbon fiber knowledge and developed a line of significantly lighter core plugs using a number of advanced materials, attaining our twin goals of significantly decreasing the weight while assuring delivering optimal structural integrity. These core plugs went through rigorous testing both in-house and live in the field, delivering our customers the strength and durability they need in their core plugs," said Steve Marsh, Double E's product manager for its Core Plug product line.
"The launch of Double E's new Ultra-Light Core Plugs have exceeded our expectations, with customers throughout the tissue industry identifying the strong advantages of weight and strength. With Double E's constant focus on improving operator safety and maximizing their productivity, our customers have embraced the benefits from utilizing this new lightest-in-class technology". Adds Josh Paul, Double E's vice president of sales.
The Ultra-Light Weight Core Plug is the newest member of Double E's proven Core Plug family of products, which features a models for virtually all applications and needs.
Product Specifications:
Features a one-piece, ultra-light weight design;
Enhances operator safety by reducing weight by 1/3;
Carbon fiber central carrier beam, ribs, and end cap plate;
Replaceable UHMW polymer journal; and
The next iteration of Double E's long-established and proven Core Plug designs.