Published: November 06, 2019
By Susan Stansbury, Contributing Writer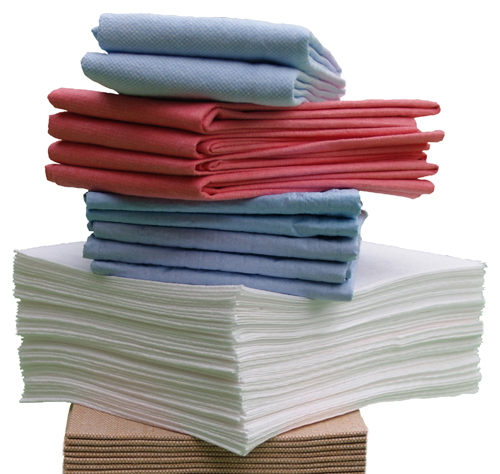 Whether you are a converter-manufacturer, printer, equipment and supplies company—substrates impact your business every day. Papers, films, nonwovens, laminates and all roll goods substrates affect your products and strategies.
Paper – the bedrock of converting
The heart of papermaking country is Wisconsin, the nation's top producing state. According to the Wisconsin Paper Council, Wisconsin's pulp, paper and converting industries generated $18.16 billion in economic output in 2018, employing more than 30,000.
Various paper substrates are targeted to converted products. They are slit and rewound into rolls for converting processes including flexographic printing, coating, laminating to other materials, folding, perforating, die-cutting, embossing and more. Here are examples:
Lightweight tissue is printed and laminated to a film backing, then folded into picnic table covers. Tissue is "mechanically" embossed into a film backing for dental bibs.
Machine glazed papers are silicone coated, printed with logos on the backside, cut into narrow rolls and become peel-off strips for bandages, sanitary napkins and tape backings.
White and "natural" unbleached papers become coffee filters, envelopes, exam table paper, and many other converted products.
Heavier papers and "board" become grocery bags, boxes and cartons, mailers, folders that are printed, laminated, coated….
Papers transform into everything from roofing shingle and rolled graphite backings, to lamp shades.
Films – tender and tough
Converters who work extensively with films need to contend with their wide-ranging characteristics, processing specialization and innovative possibilities. These films may be:
Polyester (PET) is able to withstand heat, such as in the microwave oven; popularity for food packaging products; known for its clarity, rigidity and barrier properties.
PET is able to be engineered with special properties such as "touchable, tactile" as supplied by companies like Filmquest for converters.
Polyethylene (PE) can be heat-adhered to other substrates, with a low-density melting point, and supplied in light to heavyweights. PE offers converters strength, stretch, high abrasion resistance, moisture vapor barrier and more.
PE has a lower melting point compared to polypropylene (PP), which also tends to be more rigid. Selection of variations for processes like printing, cutting, and folding is crucial. For example, "PE Sealant films for Pack Ready Lamination" are offered by Charter NEX.
Film can be supplied to meet industry specifications including corona and chemical treatments, heat-sealability, color, anti-fog, hazy, ultra-clear, shrinkable, twistable, metallized and other market and performance-driven properties, according to Filmquest.
With a spotlight on the environment, plastics suppliers are innovating. From a Coke bottle made with "Plastic from the Sea" to a degradable film, this substrate category is evolving to respond. Developers are evaluating equivalency to standard films, for product shelf life and other characteristics.
Nonwovens – the latest innovative substrates
In papermaking, the fiber blend is fed into the headbox. By contrast, nonwovens can be produced by feeding same or different fiber blends through multiple "forming heads" for an especially engineered result. While nonwovens may consist of "random" fibers, "wovens" like cotton and other fabrics are woven and interlaced. Nonwoven web structures are bonded together by entangling fiber, as in spunlaced nonwovens. Regardless of the technicalities, nonwovens offer adept converters opportunities to deliver special, higher profit results. Consider some items:
Airlaid nonwovens, with high percentages of cellulose "fluff pulp" are converted into linen-like embossed napkins, restaurant cutlery wraps, and baby wipes.
Stronger spunlaced nonwovens are seen in wet wipes, known for soft, stretchy cleansing properties in baby products, cosmetics, general and industrial wipers. Spunlaced materials may contain various amounts of cellulose, PP and other fibers that offer different converting and product features.
Spunbonded nonwovens used in Tyvek and similar materials; carded and needlepunched nonwovens are other materials available.
Suppliers – meeting the challenge
Rollers, sensors, tension controls, machines, components, gauges, controllers, inline web inspection and myriad other installations are targeted to converting substrates with productive and quality outcomes. Some examples:
Versatile equipment from Catbridge can process pressure sensitives, tapes and film substrates.
Object recognition guides the most challenging materials, according to Fife/Maxcess.
American Roller offers solutions to combat loss of tension control, reduce defects and slippage.
Substrate surface treatments improve adhesion of inks, coatings and adhesives says Enercon.
Static control and web cleaning systems are crucial "at a time where product cleanliness is of utmost importance…" – Matt Fyffe, Meech International.
Strong relationships with suppliers of substrates and associated suppliers result in better converting efficiency, runnability, less waste (source reduction) and an improved bottom line.