Published: July 30, 2013
ASTON, PA | Amacoil/Uhing has introduced a new option for Uhing RG linear drives, which is said to enables extremely fine adjustment to the linear pitch of the drive unit.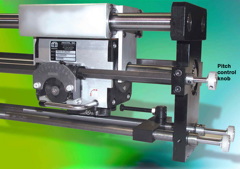 Using the new control knob option, the pitch may be adjusted while the drive is moving without changing motor speed. There is no need for gear reduction. Reportedly, the pitch adjustment option enhances both positioning accuracy of the drive unit and control over linear speed in linear motion applications.
The standard linear pitch adjustment control on the drive is a lever that is moved manually to a notched setting on a scale. Each notch increases or decreases pitch by 0.01. There are 100 discrete notched settings on the scale, enabling a 10:1 turndown of the linear pitch of the drive unit.
The new pitch control option bypasses the notched settings on the scale by using a worm gear and threaded rod design. To change linear pitch, the operator turns a control knob on the end of the threaded rod. This may be done safely while the drive is operating, with no need to stop the system or adjust any other controls. A pitch indicator moves along the scale as the control knob is turned.
The worm gear option permits virtually infinitely adjustable pitch throughout the 10:1 adjustable pitch range. This fine tuning capability means the operator has more accurate control over the drive unit's linear position along the travel path, company says.
This email address is being protected from spambots. You need JavaScript enabled to view it.