Published: November 18, 2011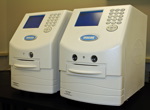 MINNEAPOLIS, MN | MOCON is "bundling" two of its entry-level, stand-alone, transmission rate units to enable what it says is a more cost-effective entry.
The models are the OX-TRAN Model 1/50 for oxygen and PERMATRAN-W Model 1/50 for water vapor testing.
The promotion is called ideal for food, beverage, pharmaceutical, and other companies who need to verify the barrier properties of their packaging materials (http://pffc-online.com/flexpack/). The dual system offering is also suitable for educational or research institutes who may wish to have on-site access to instruments for teaching or training purposes.
The company says both use its frequency-modulated, precise relative humidity method, with "set and go" fast and automatic controls. In addition, the systems feature an automatic flow setting and are designed to protect against over/under pressure and sensor damage.