Published: November 15, 2017
VADNAIS HTS., MN | Nexen Group offers three models of BD (brute disk) caliper brakes: air actuated, spring actuated/air released, and spring actuated/hydraulically released. The BD design utilizes arms to provide a mechanical advantage, allowing higher clamping force. (Stopping power can be multiplied by installing additional caliper brakes on each disc.)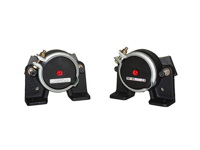 Torque ranges from 8,000 to 23,000 in-lbs., with disc diameters from 12–24 in. Actuators mount on either side of the brake. Connections can be rotated 360 deg around actuator axis, and all pivot points have life lubricated bearings.
Brake shoes are mounted with detent pins for quick replacement. Larger, curved brake shoes with more contact area are available for longer life and higher peak input rate.
Other highlights of the BD caliper brake (features vary by model) include the following:
Maximum disc speed: 3,200 RPM
Disc thickness: 0.50–1.00 in.
QD Bushing compatible for shaft sizes to 3.875 in.