Published: December 02, 2015
ALLEROD, DENMARK | Lloyd Instruments materials and force testers from AMETEK Test & Calibration Instruments now include a specially developed jig for what is said to be easy determination of peel strength of the aluminum foil on contact lens blister packs. Designed for use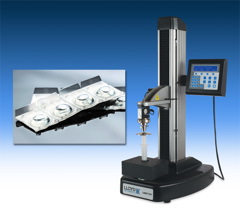 with a low force tester, such as the Lloyd Instruments LS1 materials testing machine, the jig features a self-adjusting sliding bed for true 90-deg peel tests.
The blister pack testing jig is engineered for use with two contact lens blister packs, each containing individual lenses in a solution. One lens pack is clamped in the upper instrument grip, while the other is clamped and fitted into a special mount in the jig's sliding baseplate. As the test machine's crosshead is driven upwards, peeling the foil on the lower blister pack, the baseplate slides horizontally, to ensure that the peel force also is applied vertically.
Company says peel strength is an important measurement parameter for contact lens packages. Too much strength and the blister package is difficult to open and there is the risk of a sudden opening resulting in the lens and fluid being ejected accidently. If the peel strength is too low, there is a chance that the foil lid could detach accidentally, for instance when carried in a bag or pocket, with loss of fluid and damage to the lens.
With material testing and force measurements to 1 kN (225 lbf), test speeds from 0.05–1,270 mpm, and accuracy greater than 0.2%, the LS1 materials tester is reported to be well suited for this type of peel test applications. Tests can be fully automated through the addition of the NEXYGENPlus materials testing software.
This email address is being protected from spambots. You need JavaScript enabled to view it.