Published: November 02, 2015
GORHAM, ME | Montalvo, international specialists in web tension control, reports the launch of its newest product line, the MP-B Series Magnetic Particle Brakes.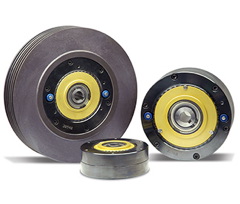 The series is said to be ideal for clean room environments and for applications that require torque independent of speed. MP-B Series brakes are available in shafted or thru bore models with torque ranges from 0.4 in-lb (0.04 Nm) to 8,851 in-lb (1,000 Nm). They are available as stand-alone brakes or are compatible with a variety of added cooling options.
Marketing manager Bryon Williams says, "…our goal is always to be delivering the products that meet and exceed our customers' expectations. Our new line of Magnetic Particle Brakes delivers smooth, repeatable, high quality performance so our customers can run from full roll to core every time, maximizing their process capabilities. Brakes keep installation simple and have some of the longest service lives in the industry."
Company says additional features and functions include the following:
• Easy Installation
• Rapid Response to Any Torque Changes
• Smooth Starts and Stops
• Silent Operation
• Low Power Consumption
• Compact, Space-Saving Units
• Linear and Proportional Torque to the Electric Current
• Cost-Effective Solution for Variable Torque Systems
• Optional Passive or Forced Air Additional Cooling Options
This email address is being protected from spambots. You need JavaScript enabled to view it.