Published: December 08, 2014
HOFFMAN ESTATES, IL | Bosch Rexroth offers the CKL, part of the complete Rexroth CKx family of compact linear motion modules. The CKL integrates an ironless linear direct drive motor with a Ball Rail system for precise positioning and zero backlash.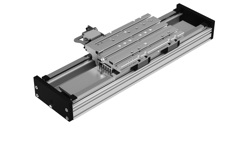 Company says the compact, powerful, and versatile CKL linear module offers a unique linear motion solution for applications where high dynamics and excellent positioning accuracy are required. The new CKL supports high load ratings and high rigidity; by integrating the ironless linear motor into the module, no mechanical drive elements are required to execute movement, making for a wear-free and zero-backlash drive said to enable ultra-precise positioning and long service life.
It has been designed for easy configuration and installation, with pre-configured connections for power, measuring systems, and hall sensor adaptors, as well as clamping fixtures with centering rings designed to fit easily with other company linear modules and aluminum structural framing that are part of its EasyHandling Solutions.
The CKL Compact Module is available in a variety of pre-configured lengths up to 5,500 mm. Reported features include:
• Travel velocities to 5 m/sec
• Acceleration to 150 m/sec
• High load ratings and high rigidity
• Perfect tracking, high positioning, and repetition accuracy
• Contactless drive—no moving parts
• Low maintenance costs due to wear-free motor and central relubrication options
The module is offered in multiple size and linear motor configurations, and is available as a complete package, including drive controller and control system and accessories such as digital or analog measuring systems, switches, sensors, power cabling trays and attachments.