Published: December 10, 2012
WEST BOYLSTON, MA | Lowell Corp. offers ratcheting crank handles said to be an alternative to handwheels and similar devices for setup and adjustment of packaging,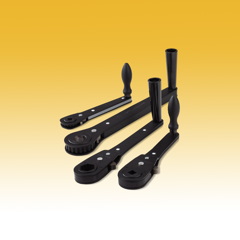 converting, and printing machinery. Applications include corrugating rollers, die-cutters, doctor blades, slitters, unwinds, and rewinds.
With a crank handle, a user can make many adjustments: cross feed; rise and fall; gib and quill; positioning screw; and clamping. Openings include bore and keyway, square, or hex and company can create custom openings to customer specifications.
Reportedly, crank handles combine leverage and strength with ergonomic design, making setup and adjustment faster, safer, and easier for the operator and easier on machinery.
Made of steel with riveted stampings, handles are designed primarily for permanent mounting on shafts or studs, and bolt-thru design lets them attach to any shaft length. They are available with either fixed or rotating metal handles or lower cost rotating plastic handles. Available arm lengths range from 7–12 in.
This email address is being protected from spambots. You need JavaScript enabled to view it.