Published: May 08, 2012
GORHAM, ME | The Montalvo Corp. is offering a free data sheet on its HP-Series dual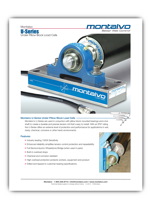 disc brakes. The sheet contains photos plus information on numerous features of the HP-Series, various sizes and specs for different equipment, technical drawings, information on friction modules and friction pad designs for the HP brakes, torque ranges, effective cooling speeds, and related accessories.
Montalvo also offers a free data sheet on its U-25 series load cell, which also includes information on the U-50, U-75, and U-120, all designed for top performance in wet, dusty, chemical, corrosive, or other harsh environments.
The U-25, an under-pillow-block load cell, has been designed to extend the lower end of the U-Series range. Various models cover a range of 0.4–225 lbs. The U-Series load cell is of stainless steel construction and is water-resistant, giving it an IP-66 standard rating and an optional IP-67 rating.
Company president Ed Montalvo says, "This small, rugged, sensitive load cell has been designed for harsh environments. It is well suited to specialty converting processes, printing, tissue manufacture, and for use with nonwovens."