Published: January 03, 2013
MISSISSAUGA, ON, CANADA | Extrusion systems manufacturer Macro Engineering & Technology has created a new division dedicated to helping processors improve their film and sheet extrusion operations through a range of consultation and service based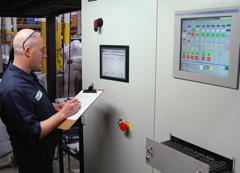 products. The new division will be headed up by Macro's technology director, Dr. Felix Guberman.
The newly formed Technology Division is geared toward providing technical expertise and resources for increasing operational performance for blown and cast extrusion systems and web handling machinery. The group will expand on Macro's current service offering to include comprehensive system audits on any film or sheet extrusion system or winding operation, system retrofit services, and troubleshooting. These services are available for any machinery and are not limited to Macro-built systems.
The Division will also be responsible for offering product and process development services. Recent organizational restructuring at Macro has nested the company's R&D Group within the Technology Division, reportedly providing a valuable resource for processors working to develop new products such as multilayer film structures, or creating alternate processing methods to achieve desired product properties.
This email address is being protected from spambots. You need JavaScript enabled to view it.