Published: May 07, 2012
WALTHAM, MA | Thermo Fisher Scientific announces the Thermo Scientific Process 11 parallel co-rotating twin-screw extruder for polymer applications and more. The 11-mm extruder is designed to minimize material costs, be easier to use, and optimize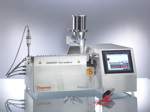 laboratory space. To achieve this, the benchtop Process 11 uses a minimal amount of sample material (20 g) and features a user-friendly touchscreen with integrated feeder control.
Compact, standalone design is said to be perfect for small-scale experiments yet robust enough to deliver results that are relevant to production conditions, company says, adding the results are easily obtained due to the full scalability of its standalone compounding systems.
The Process 11 features a throughput of 20 g/h to 2.5 kg/h and a segmented screw design with removable top half barrel. Screw elements and barrel design scale geometrically across the whole suite of company's extruders and allow easy process scale-up.