Published: April 02, 2012
WOONSOCKET, RI | Parkinson Technologies will feature numerous products and technologies at its exhibit at NPE 2012, being held in Orlando, FL, April 2–5. The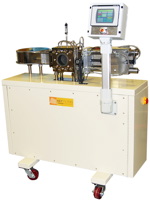 company will show its latest winding, slitting, and melt filtration product offerings for the plastics and converting markets.
"We have been looking forward to the new NPE venue in Orlando because it allows more of our budget to be devoted to bringing equipment, and for us that's what this show is all about," said Peter Termyn, Parkinson president and CEO.
At NPE the company will show machinery from three of its brands: a new Dusenbery Converting Systems Genesis 700 slitter/rewinder; a Parkinson primary winder with advanced cut-and-transfer technology for difficult webs; and an new Key Filters KCH screen changer, designed for lower viscosity and elastomeric materials.
The KCH screen changer uses a PLC to monitor the extrusion pressure and quickly reacts to move the screen to keep the pressure constant and uniform. Early testing has shown excellent results, where polymers have been processed from as low as 30 on the shore A scale to 95 on the shore D scale, using the same machine with the same screen. (Visit Booth 6269)