Published: September 26, 2013
DÜSSELDORF, GERMANY | Henkel has launched what it says is the world's largest adhesives factory in Shanghai. The new factory, which is also known as the "Dragon Plant" at Henkel, comprises 150,000 sq m of space and is now the central production site for industrial adhesives in China and the Asia-Pacific region. Annual output is forecast to reach up to 428,000 metric tons of adhesives.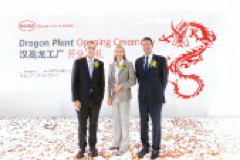 Kasper Rorsted, chairman of the management board of the Henkel Group, says, "This new adhesives factory will contribute significantly to the achievement of our strategy 2016: It will enable our Adhesives business to expand and leverage its global reach and win market share in emerging markets."
Henkel is already generating 45% of its total sales in emerging markets, and 55% of its employees are based in these countries. One of Henkel's financial targets for the year 2016 is to increase the sales generated in emerging markets to 10 billion euros while aiming for total sales of 20 billion euros.
"The inauguration of the 'Dragon Plant' is an important milestone for us and our customers," says Jan-Dirk Auris, executive VP of Adhesive Technologies at Henkel. "Having this larger production facility brings us closer to our customers in the region, not just geographically but also by reinforcing our commitment to partnering for innovation and mutual success."
The company says Henkel is a model for sustainability and efficiency. Compared to a traditional production plant, it uses only half the amount of water thanks to condensed water recovery systems, while recycling has reduced the volume of packaging materials by 60%, and electricity usage for factory lighting has been cut by 90% due to special translucent roofs which let the daylight in. There is also a system for recovering waste heat, and the factory includes innovative filling equipment designed to prevent leaks and spills of adhesives.
This email address is being protected from spambots. You need JavaScript enabled to view it.