Published: March 05, 2012
DUSSELDORF, GERMANY | Optal XP casein-free labeling adhesives from Henkel offer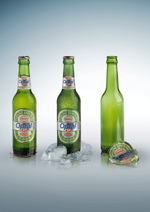 extended properties and a performance profile said to ensure trouble-free production processes for beverage manufacturers while extending their options.
Company says casein-free adhesives offer a longer shelf life and temperature stability, feature exceptionally good initial tack, and support fast setting and drying, thus helping to reduce adhesive usage rates. Adhesives exhibit good adhesion even to chilled glass surfaces, company adds.
These adhesives, based on synthetic polymers, reportedly contribute to environmentally compatible production by yielding economic and ecological process benefits in terms of mileage and field-proven wash-off behavior. Long-term use by various national and international beverage bottlers has shown that the labels can be detached with ease in bottle washing plants using standard cleaners and settings. In addition, these second-generation adhesives give no cause for concern during waste water treatment, have FDA approval, are free of toxic ingredients, and contain no alkylphenol ethoxylates, zinc, or borax.