Published: October 04, 2013
ROSH HA'AYIN, ISRAEL | Scodix, international digital finishing company, has selected Derprosa, Jaén, Spain, as official supplier of lamination films, which are used in its premium printing process called Scodix Sense.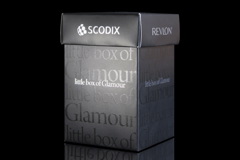 Scodix says Derprosa has been chosen as a leading provider of these films, both for its technical efficiency of gluability. Derprosa films are said to highlight the finishes, thanks to their surface properties, both optical and tactile (i.e., a metallic or softness touch).
Derprosa films can be laminated on various substrates and can be finished with most available technologies.
Among the effects films can offer are silver metallic finishes (without using metallic inks), tactile finishes that provide softness to the design of the film with SoFT TOUcH, or color films that gives a more uniformed and clean printing thanks to the Elegance range. Also available are antibacterial, anti-scratch, or ecological properties that can be combined with the different finishes.
This email address is being protected from spambots. You need JavaScript enabled to view it.