Published: May 09, 2013
NORTH KINGSTOWN, RI | Toray Plastics (America) reports it has installed new coating equipment in order to meet customer demand for value-added films with advanced specialty layers.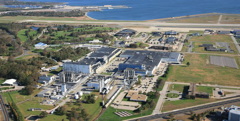 Company says industrial and packaging films and multilayer and barrier structures that require specific surface properties are of special interest to its customers. The new technology is said to integrate seamlessly with company's filmmaking technologies and will expand the range of the PET, OPP, CPP, bio-based, and metallized film offerings.
Corporate marketing manager Paul Knollmeyer says, "We're very excited to be able to provide [our customers] them with the kind of advanced technology they have requested." Knollmeyer notes that the capital investment also presents the company with the opportunity to further expand research and development into new and more advanced film technologies.
This email address is being protected from spambots. You need JavaScript enabled to view it.