Published: September 19, 2013
DIDAM, THE NETHERLANDS | MPS reports it will launch an EB press for label printers at Labelexpo Europe 2013, September 24–27, in Brussels, Belgium.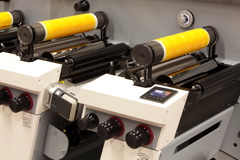 Said to offer high performance and cost-effective operation, the press features short-web technology, iStop, and a pre-register solution to minimize waste and set-up time. The press is available with a print width of 360 mm (14.17 in.), a material width of 370 mm (14.5 in.), and is designed for printing and converting self-adhesive labels.
With a configuration of up to 10 print stations, the press is equipped with a double die station suitable for front and back side die-cutting, sheeting, and slitting. Various converting applications such as web turner bar, de-lam/re-lam, and laminating solutions including cold foil can be implemented at any location along the press using company's flexible positioning rail system. Additional solutions such as cross-over multilayer labels can also be added. Drying options include UV, IR-combination, and hot air.
MPS technical director and co-founder Bert van den Brink says, "…we saw a market need to develop a press for label printers that delivers [our] high-performance technology but at a much lower initial investment. It was a challenge to design a press comprising high quality components, technologies, and ergonomic build without exceeding the budgeted costs to meet the attractive price point we wanted to achieve. With the EB press, we proudly met our design goal."
This email address is being protected from spambots. You need JavaScript enabled to view it.