Published: June 22, 2017
SCHAUMBURG, IL | INX International Ink Company recently doubled the size of its manufacturing facility in Edwardsville, KS. The company says the expansion, which was completed in April, the now 75,000-sq-ft building improves its ability to support continued growth for its energy-curable inks and coatings products.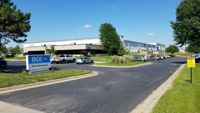 Located on 8.6 acres of land near major interstate arteries in the suburbs of Kansas City, KS, the original complex opened in 1992 when it combined resources from the Acme and Midland offset ink facilities. Edwardsville assumed additional product offerings when the Kansas City plant closed in 2005, absorbing the UV flexo, UV coatings, and water-based blended lines.
"The Edwardsville expansion was necessary for many of the same reasons why we made a capital investment to expand our Charlotte facility last year," says John Hrdlick, chief operating officer for INX. "Our UV sales growth trend had continued to place a strain on the facility. The lack of space did not allow us to stage international shipments as we worked on those orders. Product had to be stored in various locations inside the facility, which resulted in many extra material movements."
He continues, "Our warehouse space also was at maximum capacity, requiring us to seek off-site warehousing for both raw materials and finished goods. Less space also made it difficult to support our non-UV customers in the geographical area. The expansion resolves all those issues. We now have floor space in shipping to stage all of the materials for the orders in one place, and we will be eliminating the rental warehousing once we get acclimated to the new space."
Hrdlick says the $5.2 million cost of the expansion will be offset by the company's ability to support continued sales growth of its energy-curable products, including UV, EB, LED, and HUV inks and coatings.
"Production volume at Edwardsville has risen dramatically over the years," Hrdlick says. "In 2005, it was 3.5 million pounds and had grown to in excess of 8.5 million pounds prior to completion of the expansion. We expect to see the same growth trend going forward as our energy-curable sales continue to be fast growing."
With the expected sales growth and a diverse product line, Hrdlick says it is likely INX will be increasing staff in Edwardsville. "We currently have 120 employees at that facility. Based on growth, it may increase as much as 10 percent or more in the next year. The expansion improves our ability to provide regional distribution of our products, and it will enhance Edwardsville's ability to provide back-up manufacturing for other INX facilities. In addition to this activity, we are also planning to utilize our West Chicago, Illinois, and Dunkirk, New York, offset facilities to further support and enhance the supply of energy-curable products to our customers."
This email address is being protected from spambots. You need JavaScript enabled to view it.