Published: February 08, 2017
DEFOREST, WI | Advanced Greig Laminators (AGL) reports the Patriot laminator for wide-format graphics finishing is designed to address the issues associated with finishing UV, latex, and solvent-based printing technologies.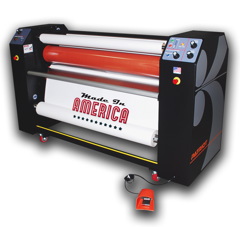 Company says the laminator combines the speed and capacity to deliver maximum productivity, reliability, and return on investment. With company's proprietary nip roll design and heating and nip pressure design, laminator is said to solve the problems associated with poor laminate adhesion and silvering.
It features an 8-in.-dia steel, rubber-covered nip roll assembly concentrically ground and finished, reportedly yielding less print distortion and wrinkling. The top nip roll features preset heat assist for warming up pressure-sensitive over-laminates, said to result in a perfectly smooth output.
Other standard features include the following:
Two unwind supply shafts
One release liner windup
One rear product windup
Auto grip core chucks Top heated nip roller to 320 deg F
Pneumatically actuated pull roll assemblies
High-release silicone rollers for easy cleaning
Pneumatically controlled film tensioning system
Cantilevered supply stations and rear product rewind
Swing up in-feed table with webbing diagrams
Variable speed control 0–30 fpm.
This email address is being protected from spambots. You need JavaScript enabled to view it.