Published: February 06, 2017
FILDERSTADT, GERMANY | HERMA Self-adhesive Materials division has expanded its specialty product range with 52C adhesive developed for labels that are used to seal wet wipe pouches and other critical products.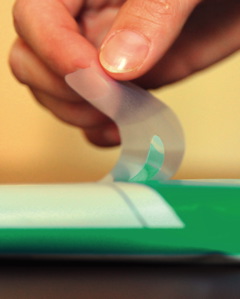 Company says Grade 52C puts an end to the clouding that can be triggered by oil and cleaning agents. This UV-reticulating acrylate contact adhesive (UVA) is said to be suitable for use with a wide variety of packaging materials and is compatible with a range of applications that present special challenges, such as wet wipes, in which oils and cleaning agents play a critical role. Reportedly, it does not require users to accept any compromises as regards either functionality or appearance.
"The combination of properties it offers is probably unique," says Dr. Ulli Nägele, HERMA's head of development. "We are in a position to develop these characteristics thanks to the massive investments we have made recently in the production technology for specialty products of this kind."
Although the semi-permanent UVA 52C was developed primarily for the sealing labels applied to wet wipe pouches, it is also said to be suitable for both dry and moist surfaces.
In clear-on-clear applications, the adhesive remains highly transparent even after repeated peeling, company says, and it is also characterized by consistent, smooth, and silent peeling in conjunction with most plastic surfaces and films. At the same time, its very high cohesion prevents the formation of unsightly strands. To ensure that the labels retain their benefits for the entire life of the packaging, the 52C grade is said to offer good resistance to light, heat, water, and aging. As a migration-safe adhesive, it has also been unconditionally approved for direct food contact.
For the purpose of producing the 52C grade and other specialty products, the company recently retrofitted a special, precision-dosing rotating bar nozzle to an existing coating plant for UVAs. The nozzle applies the adhesive within extremely small weight tolerances to achieve an ultra- smooth finish, even with high grammages.