Published: November 29, 2016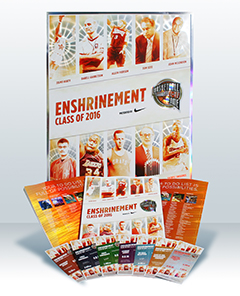 HOLYOKE, MA | Hazen Paper Co. created a coordinated, custom package of holographic promotional items and event souvenirs for the 2016 Enshrinement at the Naismith Memorial Basketball Hall of Fame in Springfield, MA. This is the fourth year Hazen has been invited to produce event-marketing materials to stimulate interest, generate income, enhance visitor experience and deliver maximum impact to advertisers; this time the ensemble included a keepsake poster, as well as tickets for a series of related events, and the covers of a souvenir golf classic program and the commemorative enshrinement program.
Hazen's ability to design, engineer, and produce custom holographic materials efficiently for various formats was key to the partnership. According to President John Hazen, "Large-format capabilities and the creative prowess of our holographic lab equip us to craft unique, must-have memorabilia from tickets to brochures, books, and commemorative posters for collectors to take home. Custom holography incorporates special effects and security elements that add significant value to each piece."
The 2016 Enshrinement package featured custom Hazen Holography on each item, integrating a variety of unique holographic techniques, including Hazen white-motion Holoplaid and full-spectrum Hazen-Lens. Custom holography boosted advertising impact for a major sponsor on the back cover of the enshrinement program, with diamond Hazen-Lens and a Hazen Solar Flare hologram set against a color-motion sleet pattern.
In addition to providing three-dimensional dazzle to heighten graphic appeal, holographic techniques also deliver security features that make each souvenir impossible to counterfeit. Produced on Hazen Holojet, engineered to perform on HP Indigo Presses, pieces were digitally printed with variable data and numbered for authentication. Holojet is a transfer-metallized Hazen Envirofoil product, created specifically to deliver outstanding visual effects, reliable performance, and eco-friendly characteristics. Though it is twice as bright, Envirofoil uses 95% less aluminum than traditional foil. Manufactured with renewable energy and third-party-certified recyclable as paper, Envirofoil can be customized and is available in a wide range of holographic patterns and metallic colors that add excitement to the full gamut of event marketing materials, including collectible posters and signage, tickets, book and magazine covers, such as the Basketball Hall of Fame Enshrinement Program and the NFL Super Bowl program.