Published: July 08, 2016
FORCHEIM, GERMANY | Infiana, film producer and engineer, reports the investment of approximately 20 million euros, strengthening its global strategy to focus on the development and manufacture of specialty films solutions. The company has recently completed the purchase of a new thermal coating facility in Forcheim, as well as investing in new printing and coating technology at its Malvern, PA, site.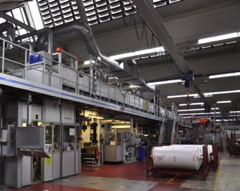 The setup and commissioning of both of these acquisitions are scheduled for the first half of 2017. "This investment will allow us to extend our capacity worldwide, to further develop our premium brand strategy and to offer our customers innovative and engineered films solutions," says Peter K. Wahsner, CEO Infiana Group. "It marks a strategically significant step in the implementation of our global growth plans."
Speaking of the developments taking place in the company's North American operations, Wahsner says, "For many years now, we have served the US Personal Care Market successfully from Germany. We are delighted to be able to produce soon locally in Malvern and provide our customers with an even faster and more customized service."
He says the company is already a market leader in the US providing release liners and surface films for the Building and Construction market, and a trusted supplier of specialty films. Now, with the development of its technological capabilities, it is set to serve the Personal Care and Health Care Markets as well.
Infiana's latest investment in Forchheim, since the change of ownership, is further ensuring the modernization of its German production plant. At the same time, it is addressing what is says is a strong increase in demand for silicone-coated specialty films in the Pressure-Sensitive and Building and Construction Markets. The company says its investment in a state-of-the-art thermal coating facility strengthens its core technology, allowing it to meet the growing demand for innovative products and enhance its reputation as the expert company for specialty films.