Published: July 05, 2016, By Mark Miller
Planning a coating trial? Answer these 7 questions to maximize your results.
If you'd like to hear from Mark Miller's own lips rather than read his column, titled "Coating Matters | Making the Most of Your Pilot Line Coating Experience," click on his podcast below:

Pilot coating lines are available in a number of locations where coated product manufacturers can run experimental trials for new products, new components, and new processes to create new products or improve existing ones. Whether you've run a pilot trial or not, chances are there are tips and pointers that can help you get the maximum value out of the experience.
What do I need to have in place before running a coating trial?
There are three levels of process testing in coated product development starting with the small scale lab trial, followed by a pilot trial, and finally scaling up to production trials. In order to undertake a pilot trial, a product development team should have successful lab trials completed and plans for the next stage of scaling up for a pilot line trial.
Are we ready for a pilot coating trial?
Pilot coating trials are not inexpensive, and often product development teams want to rush to this phase of the project. For best preparation, you should have the following in place:
A 90-day implementation plan including 2-3 scheduled trips to the pilot coating line
Specific budget identified for the trial project based on material use and line time costs
Design of experiments documentation in advance of the visit to the pilot line with key variables identified
Research on pilot line site and capability options available
What is a realistic budget for the typical coating trial?
There is no single answer to the budget question. Depending upon a company's readiness and in-house preparation, the budget could be as small as $24,000 or as large as $144,000 (not including material costs). The more experts involved and the more days on-site at a pilot coating line, the more the process will cost. Keep in mind that while the development budget may seem large and time consuming, process and product enhancements and problem solving happens much more quickly and inexpensively on a pilot line than they do on the manufacturing floor. It is good practice to fund trials generously to uncover potential issues, repeat successes, and go to manufacturing with confidence in your product and process.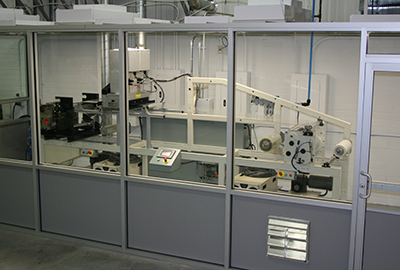 What is a realistic timeline for a typical coating trial?
While every project has unique aspects and variables, the average coating trial project takes about six months from beginning to end. Obviously, this can vary if the trial includes adjustments on a small number of variables and increase if the complexity of the project is significant, but typically very beginning to very end entails about 6 months of scheduling.
How can I choose a pilot coating site?
Pilot sites seem to be popping up everywhere…at manufacturing companies, educational institutions, and at consulting firms. Fortunately, most include very specific information about the equipment available and experts available. Costs can vary widely, but services offered in terms of expert assistance can vary widely, as well. Make sure you are choosing a site suited for your needs, then compare the value competitive sites offer for your project.
What kinds of results can I expect from a pilot coating trial?
Companies generally enter into a pilot line coating trial to answer the following questions:
Is our product feasible to manufacture?
Can we speed up our manufacturing process?
What adjustments can we make for thinner or wider coating?
How do product adjustments to fluid or substrate affect manufacturing and product performance?
What experts should I have on-site during a coating trial?
This question can vary widely based upon the experience level of your team. You may choose to have a coating consultant on hand, a process engineer, a chemist, a web handling expert, a manufacturing engineer, or other subject matter expert for reference. Some pilot coating sites have individuals with this expertise available on site.
Top suggestion
If you are new to pilot coating, plan at least a day longer on the coating line than you think you will need. Inevitably, the very best ideas for design of experiment come at the end of the day and one more day on the pilot line could make a very significant positive impact on your project.

Mark D. Miller, author of PFFC's Coating Matters column, is a fluid coating expert with experience and knowledge in the converting industry accumulated since 1996. Mark holds a Bachelor's degree in Chemical Engineering from the Univ. of Wisconsin-Madison and a Master's degree in Polymer Science & Engineering from Lehigh Univ. and a Juris Doctor from Hamline Univ. Mark is a technical consultant and CEO of Coating Tech Service LLC. He has worked in web coating technologies and chemical manufacturing operations and is a certified Six Sigma Black Belt trained in both DMAIC and DFSS disciplines. Coating Tech Service provides process troubleshooting and project management for precision coated products. Mark has extensive process knowledge in high precision coating applications including thin film photo voltaic, Li-Ion battery, and optical systems technology. Mark has been integral to new developments and technology that minimize product waste and improve process scalability.
Lab/Pilot/Technical Facilities Directory
Looking for a pilot line facility for your next trial? Check out PFFC's Lab/Pilot/Technical Facilities Directory to find the right facility to meet your needs.