Published: April 05, 2016, By Claudia Hine
Society of Vacuum Coaters brings its technical and educational programs—plus equipment exhibits—to Indianapolis.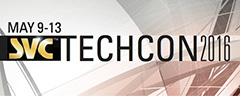 Society of Vacuum Coaters (SVC), Albuquerque, NM, will hold its 59th Annual Technical Conference May 9-13 at the Indiana Convention Center in Indianapolis. SVC's TechCon attracts industry professionals involved in vacuum equipment manufacturing and distribution, parts and supplies, and coating materials and products.
In a city known for the greatest spectacle in racing— the Indy 500—advances in the world of coating technology may soon find their way into the cars of future winners of this historic sporting event.
This year's comprehensive TechCon includes the following events:
May 9-11: Education Program covering 23 tutorial courses
May 10-13: Technical Program exploring the symposium topic: Leading-Edge Coating Technologies—High-Performance Films Shape Tomorrow's Products
May 11-12: Equipment Exhibit dedicated to vacuum coating technologies and highlighting 155 exhibitors
Among the keynote presentations being offered is one by Vivek Subramanian, University of California, Berkeley, entitled "Printed Electronics: Innovations in Materials, Processes, and Devices." He will discuss advances in printable material systems that enable the realization of high-performance printed thin films.
In a technical session on Plasma Processing on Tuesday, May 10, BOBST Manchester Ltd. will co-present a paper entitled "Development of PECVD SiOx Moisture Barrier Coatings."
EQUIPMENT EXHIBIT
On Wednesday, May 11, the equipment exhibit is open from 12:00–6:00 p.m. On Thursday, May 12, the hours are 10:00 a.m.–5:00 p.m. Exhibiting companies include BOBST (Booth 600) and Nordmeccanica NA Ltd., Vacuum Div. (Booth 229).
For a complete list of exhibitors and to view the floor plan, click here.
NETWORKING OPPORTUNITIES
Here is a peek at some of the planned activities designed to encourage attendees to make connections.
Monday, May 9—Golf Tournament. 18 holes at Riverside Golf Course
Monday, May 9—Awards Ceremony and Welcome Reception. Open to all, the ceremony will introduce the Nathaniel Sugerman Memorial recipient, SVC Mentor Award recipients, and the Sponsored Student Awardees.
Tuesday, May 10—Young Members Group and SVC Mentors Happy Hour. Open to students and attendees under age 35 interested in vacuum coating and related technologies.
Wednesday, May 11—Networking Mixer. Open to all, the mixer is held at the Hyatt Regency Indianapolis after the exhibit reception ends.
Wednesday, May 11—11th Annual 5K Fun Run & Walk.
For more information, visit www.svc.org.