Published: February 16, 2016
MEQUON, WI | Jemmco reports the official opening of its new office and manufacturing facility in Mequon. With more than a 20% growth in manufacturing square footage, the new facility will enhance the company's manufacturing capabilities to facilitate an expanding product line.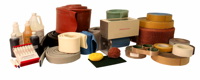 Company CEO Jeff Opad says, "Jemmco's expanded facility not only means more space for our growing company but enhanced capacity to satisfy existing customers and more opportunity to continue developing unique solutions for our clients through our focused R&D efforts. We have a number of new products already in the making and are excited to continue down this path."
Jemmco is a supplier to the extrusion and web converting industries, offering a complete line of equipment and supplies for processing paper, film, and foils. In addition to a full line of Dyne Pens & Solutions, the company offers a full line of disposable roller coverings, including JemmTron Silicone Treater Sleeves, JemmTac Web Cleaning Sleeves, JemmTrac Traction Sleeves, and JemmSil Release Sleeves.
This email address is being protected from spambots. You need JavaScript enabled to view it.