Published: June 05, 2015
HAUPPAUGE, NY | Nordmeccanica opened the doors of a new, larger location of its American subsidiary Nordmeccanica NA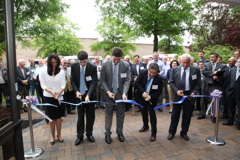 Ltd.in Hauppauge. With the presence of more than 120 guests, the event was hosted by Vincenzo Cerciello, president of Nordmeccanica NA, Alfredo Cerciello, financial director for the Nordmeccanica Group, and Giancarlo Caimmi, commercial director of Nordmeccanica Group.
Nordmeccanica NA is responsible for sales and after-sales service in the US and Canada and extends territory responsibility to Mexico through a qualified agency, and it has been operative in North America for more than 15 years. The growing number of machines installed required the company to move into a new location with larger inventory for spare parts and expanded office space to better serve and support its customers.
Participants at the event included representatives from a large number of companies served by Nordmeccanica in North
America, coast to coast, and the list of attendees included a large number of technical partners. The program featured a demonstration of the company's technical capabilities with the lamination of a structure that included what is said to be the thinnest aluminum foil ever converted in adhesive lamination.
The event concluded with a technical conference targeting the handling of thin aluminum foil and metallized webs in adhesive lamination. The conference featured papers presented by Cerciello and Caimmi as well as a presentation by and received the Academic enlightening granted by the paper given by Dr. Duncan Darby of Clemson University, Packaging Science Department, about foil handling. Conference proceedings are available upon request.
This email address is being protected from spambots. You need JavaScript enabled to view it.