Published: March 19, 2015, By Mark Miller
If you'd like to hear from Mark Miller's own lips rather than read his column, titled "Coating Matters | Construction Materials for Coating Equipment," click on his podcast below:
Mark Miller helps you identify the right material selection for tooling that will carry fluid to your substrate.
Coating equipment can be exposed to a variety of conditions—acidic fluids, corrosive chemicals, and abrasive slurries to name a few. So how do you identify the right material selection for the tooling that will carry the fluid to the substrate for application? While not an exact science, the plan should be to look at it from two perspectives and meet in the middle.
From the perspective of the coating engineer, the fluid chemistry and the substrate rule the day. The coating head and fluid delivery system need to have compatible components that will not degrade over time. The question is: What you are looking for?
For every application there will be trade offs. To encapsulate the coating head in a corrosive resistant coating will reduce manufactured flatness. To obtain chemical resistant metal, machinability may suffer. To have scratch-resistant material, the tooling may have extra weight. Comparing these tradeoffs to the benefits of one metal over another can guide the base material decision.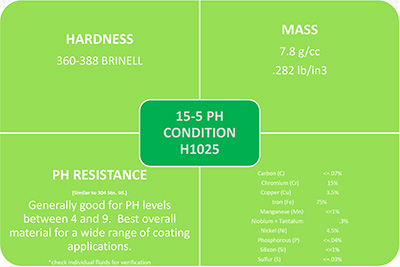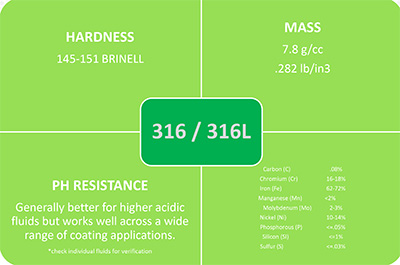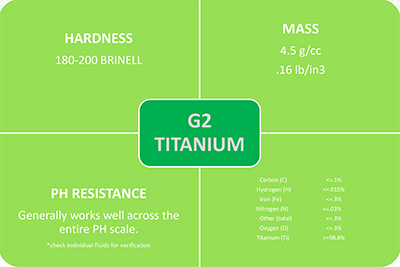 From the perspective of the coating equipment manufacturer, the machinability for precision is what leads decision making. Stainless steel is optimum for flatness, precision, and accuracy of manufacturing to exacting design in coating equipment. Stainless steel, however, is not always the best option. In qualitative terms, a variety of base metals are investigated for properties of importance in wear resistance.
| | | | | | |
| --- | --- | --- | --- | --- | --- |
| Steel Type | Cost | Hardness | Chemical Resistance | Weight | Machining |
| 15-5 Stainless Steel | 3 | 3 | 2 | 1 | 3 |
| 316L Stainless Steel | 2 | 1 | 3 | 1 | 1 |
| Titanium | 1 | 1 | 3 | 3 | 1 |
1 = Good 2 = Better 3 = Best
Details of the steel types that can be considered in coating applications are further detailed in the diagrams provided. For more specific chemical resistance, there are charts available that compare metals to specific chemicals on a qualitative basis. These can be found throughout the literature or in machining handbooks.
Keep in mind both of these perspectives will lead to the best solution for a given coated product. If the raw material choices are too limiting, then the addition of a coated material can be considered. However, any coating placed on the steel basis will change the flatness obtained by the machining of the steel and further lapping will not be possible. If coating precision is less of a concern than wear resistance, then exotic coatings for protection should be a reasonable choice.
With these options in front of you, deciding what raw material to use to manufacture coating equipment be an easier decision for your aggressive fluid.
Happy coating!

Mark D. Miller, author of PFFC's Coating Matters column, is a fluid coating expert with experience and knowledge in the converting industry accumulated since 1996. Mark holds a Bachelor's degree in Chemical Engineering from the Univ. of Wisconsin-Madison and a Master's degree in Polymer Science & Engineering from Lehigh Univ. and a Juris Doctor from Hamline Univ. Mark is a technical consultant and CEO of Coating Tech Service LLC. He has worked in web coating technologies and chemical manufacturing operations and is a certified Six Sigma Black Belt trained in both DMAIC and DFSS disciplines. Coating Tech Service provides process troubleshooting and project management for precision coated products. Mark has extensive process knowledge in high precision coating applications including thin film photo voltaic, Li-Ion battery, and optical systems technology. Mark has been integral to new developments and technology that minimize product waste and improve process scalability.