Published: March 09, 2015
KOLDING, DENMARK | TRESU Group reports the launch of the iCoat 30000 TWIN that applies two coats of varnish to digitally printed folding cartons, inline in a single pass.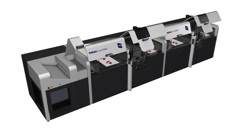 Designed for in-line integration with the HP Indigo 30000 digital press, the unit includes two flexo units capable of applying spot, partial, or full-surface coating immediately after the printing stage. Company says the result is a seamless single-pass sheet-fed print and coating operation, resulting in efficiencies in logistics, material waste, set-up time, and handling.
Søren Maarssø, COO, TRESU Group, says, "The iCoat 30000 TWIN's double flexo stations provide an effective way of enhancing functionality and esthetic impact, with multiple combinations of UV-curable and water-based coating, in a single process."
Examples of possible effects include a double full-surface coat for extra protection; juxtaposing matte with high-gloss; or combining full, spot, or line effects, creating contrast or adding vividness to an underlying color.
Maarssø says, "The coater is an ideal complement to a digital workflow for high-end applications in cosmetics, pharmaceuticals, luxury food and drinks, and retail promotional packaging, especially where short runs, variable data, unique versions or personalization are required."
Capable of running 5000 sheets/hr on board substrates between 180g/m² (121.6 lb) and 500g/m² (337.8 lb), the iCoat 30000 TWIN also features corona treatment, quick-change sleeve technology, and the ability to switch from UV to aqueous varnish within a few minutes.
This email address is being protected from spambots. You need JavaScript enabled to view it.