Published: February 09, 2015, By Mark Miller
If you'd like to hear from Mark Miller's own lips rather than read his Coating Matters column, titled "Coating and Casting Technology for Water Filtration," click on his podcast below:
The fundamentals of air entrainment, entrapment, and rheology are critical to product success
Water filtration is ubiquitous in our world. Water supplies need technological support to provide the volume necessary for our planet's population. There are five main types of filters that support water purification efforts
Adsorption. Water filtration occurs as water runs past an adsorbent media such as carbon.
Distillers. Distillation is a process of heating water to the boiling point and collecting water vapor as it condenses.
Ultraviolet. Light disinfects the water.
Membranes. Membranes trap particles of a certain size and allow water to flow through.

Reverse osmosis. Similar to membranes, but capture more water and are less efficient.
There are pros and cons to the different types of purification systems, but membranes and RO can be coated. Coating of the filtration membrane allows for addition of functionality via chemical control.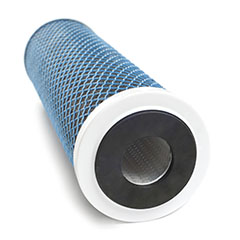 Water filtration is not a new science, but new technological developments are improving water filtration products every day. In a paper published December 2014 (Mechanical Engineering), Harry Hutchinson highlighted the work being completed to separate liquids via nano and micro sized pores. This variation in pore size allows for separations not previously thought possible.
As these pore sizes vary in production, coatings that can add functionality need to be place onto the filtration media precisely. Similar to the physical filtration design, new coatings can provide filtration capabilities that were unheard of previously. In order to precisely coat fluids that provide these technological advances, precise coating methods are required.
Self-leveling fluids that depend on a process with gravity as the main driving factor are unacceptable. The fluid needs to be placed in the proper location and survive the severe environmental conditions of high humidity and solvated coating environments.
Membranes need to be cast and coated, so the technology required is mutli-dimensional. In casting, the polymer forms a film that is quenched in a water bath. This polymeric coagulation and formation creates a unique product and defines the pore size. This pore size, through molecular weight of the formed polymer, then defines the allowance and rejection of the water.
Casting is not the final story on filtration however. The surface roughness and hydrophilic/hydrophobic nature of the physical membrane allows the filter to work as designed, but can also make the filter short-lived due to fouling or other use defects. Coatings on the surface of the filter can provide improved performance and durability.
Whether coating, casting (or both) for water filtration technology, the fundamentals of air entrainment, entrapment, and rheology are critical to product success. You can imagine that even on bubble defect coating, a water filter could be disastrous to the final product. So you may find, like I have, that studying and understanding water filtration casting and coating can help develop analogous skills for industrial coating.

Mark D. Miller, author of PFFC's Coating Matters column, is a fluid coating expert with experience and knowledge in the converting industry accumulated since 1996. Mark holds a Bachelor's degree in Chemical Engineering from the Univ. of Wisconsin-Madison and a Master's degree in Polymer Science & Engineering from Lehigh Univ. and a Juris Doctor from Hamline Univ. Mark is a technical consultant and CEO of Coating Tech Service LLC. He has worked in web coating technologies and chemical manufacturing operations and is a certified Six Sigma Black Belt trained in both DMAIC and DFSS disciplines. Coating Tech Service provides process troubleshooting and project management for precision coated products. Mark has extensive process knowledge in high precision coating applications including thin film photo voltaic, Li-Ion battery, and optical systems technology. Mark has been integral to new developments and technology that minimize product waste and improve process scalability.